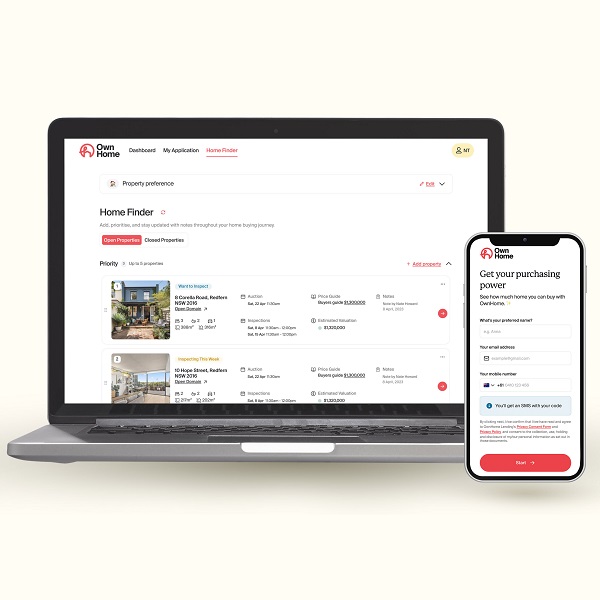 OwnHome launches Australia's first 0% deposit home loan option to get more people onto the property ladder
CBA-backed OwnHome has today launched the Deposit Boost Loan – an Australian first that will help aspiring buyers secure a bank loan with 0% deposit.
OwnHome's Co-Founder James Bowe said it is time to rethink the outdated rule that only people with a 20% deposit can service a mortgage and get on the property ladder.
"It's a myth that you can't afford a mortgage if you don't have a deposit," Bowe said. "Many Australians can afford a mortgage and are wonderful prospects for bank loans, but saving 20% of an ever-growing house price keeps the dream of ownership out of reach."
Australian cities are among the most expensive places in the world to buy a home. In Sydney, prospective buyers would need $329,000 to cover a 20% deposit and the additional upfront costs for a median-priced house.
"Saving for a home deposit is becoming an almost impossible task in today's economic climate. That's why we're massively reducing one of the biggest barriers facing aspiring homebuyers – the upfront costs."
OwnHome's Deposit Boost Loan funds up to a 20% home deposit, which customers can then use to access an 80% loan-to-value ratio loan from OwnHome's growing list of lender partners.
Instead of the hundreds of thousands required for a traditional 20% deposit, OwnHome customers just need just $88,070 upfront for the OwnHome Starter Fee of 2% of the property price (+GST) and government fees, such as Stamp Duty and transfer fees.
The loan is open to all first-time buyers and owner-occupiers who pass the lender's affordability criteria. Borrowers can use the Deposit Boost Loan to borrow up to 100% of the property value, across OwnHome and the provider of the first mortgage, up to a maximum home value of $3,000,000.
"Australians who don't have access to the Bank of Mum and Dad don't want to put their lives on hold for over a decade saving for a deposit, and now they don't need to. With a Deposit Boost Loan, aspiring homebuyers only need 2.2% not 20%, slashing the time to get onto the property ladder by almost a decade," Bowe said.
Focused on responsible lending OwnHome's model ensures that a customer's debt-to-income ratio is lower with a Deposit Boost supported home loan than going direct with an 80% LVR lender because the additional principal and interest repayments are factored into the home loan serviceability assessments.
"The magic in how we can lend confidently to those without a deposit is that we're incredibly rigorous when it comes to assessment.
"We look at transaction-level data to make a real-world assessment of someone's ability to make repayments. This is better than what many lenders do, which is to do a quick review of payslips and equate a gifted deposit with a responsible borrower."
OwnHome has raised a $31 million series A, securing the financial backing of some of Australia's most notable institutions, including the Commonwealth Bank of Australia's venture arm, X15 Ventures, and Square Peg Capital.
The Commonwealth Bank's x15ventures Managing Director, Toby Norton-Smith said OwnHome is tackling a meaningful problem for aspiring homeowners.
"This is a big problem space, ripe for innovation. Overcoming the deposit hurdle remains a challenge for many aspiring homebuyers – even those we might consider to be 'doing well' financially, with a higher-than-average household income and good credit history. The reality is that, without help, many families struggle to build the upfront savings required to access a home loan. That's why we've been interested in what OwnHome is doing from day one, invested in its Series A early last year, and are exploring options for how we could bring this new solution to more customers."
Bowe said the company planned to support $500 million in home purchases over the next 18 months.
"We are matching the amount the Federal Government plans to support annually via its own $10 billion Housing Fund," Bowe stated. "The Government has introduced several schemes to address Australia's housing affordability crisis, which has sought to increase supply and reduce stamp duty requirements. These are all positive steps, but more needs to be done to help more Australians own their home."
The launch of the Deposit Boost Loan follows a successful pilot program that generated extraordinary demand for the Deposit Boost Loan. OwnHome has approved $5 million in deposit loans, corresponding to $20 million worth of new Deposit Boost enabled home loans.
To help customers find the right property at the right price, all Deposit Boost Loan customers, no matter their budget or deposit contribution, are also assigned a personal Buyer's Agent.
OwnHome Buyer's Agents support customers through every step of the homebuying journey, from property scoping to settlement. The end-to-end service also includes all conveyancing costs and property due diligence.
The Deposit Boost Loan is available in New South Wales, Queensland and Victoria with imminent plans to launch in South Australia and Western Australia.