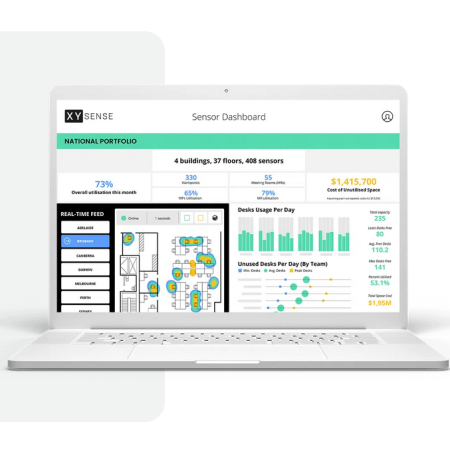 XY Sense announces real-time integrations to end ghost bookings in your office
XY Sense, the most actionable occupancy intelligence platform for corporate real estate teams, today announced a new API powering real-time integrations with a variety of leading workplace experience and booking applications, including; Appspace, Calven and GoSpace.
The XY Sense Occupancy API makes it simple to integrate powerful real time sensor data into workplace experience and booking platforms. The technology leverages XY Sense's high precision, privacy-preserving Area Sensors which can detect occupancy down to 1 ft, and update supported platforms every 2 seconds for real-time insights. Once integrated with a company's booking technology, teams can access live views of which desks and meeting rooms are currently in use, book available spaces in real time and end the phenomenon of 'ghost bookings' where rooms and desks are booked and marked as unavailable but not actually occupied.
"Ghost bookings are a real problem for workplace leaders trying to bring people back into offices," said Shivaun Ryan, Head of Customer Success at XY Sense. "People avoid coming into work because of a false sense of scarcity or they waste valuable time trying to find a desk or room when many are simultaneously booked but empty. They're an office vibe killer and create a reporting nightmare for real estate teams trying to untangle what spaces are actually being used."
Real time integrations powered by the XY Sense Occupancy API enable workplace experience platforms to 'close the loop' on desk and room bookings by comparing the booking status of a space with the physical occupancy status being reported by sensors. Customers can configure their booking apps to either automatically reserve a space once the sensor detects it's occupied or release a booking if the space is not occupied within five or ten minutes of the start time.
"This live space availability integration makes the experience of finding, booking and checking-in to spaces a truly seamless experience for our mutual customers. Integrating XY Sense helps Calven provide even smarter software for corporate real estate teams to effectively and efficiently run their workplace in a hybrid world." said Dan Jackson, Co-founder & Head of Product, Calven.
Paul Alley, Director of Partnerships at Appspace, a leading workplace experience platform which services over 2,500 companies including 150 of the US Fortune 500, said, "We're always looking to integrate best-in-class solutions which help our customers unite their physical and digital workplaces. The more accurate and timely the data, the better the outcome. Our integration with XY Sense further strengthens our space management, real time wayfinding and reporting tools for joint customers."
Rich spatial utilization data from the XY Sense Occupancy API can also be used to simplify space planning for teams implementing unassigned or agile seating in hybrid workplace models. Integration partner GoSpace is leveraging XY Sense data to power dynamic group space bookings in hybrid workplaces.
"We think about space bookings differently at GoSpace because when you and your team organize a team day in the office you actually want to sit together. It's just way too complicated and frankly a waste of time for five different people to book individual desks," said Amy Pirie, CRO at GoSpace.
"Instead, having confirmed who's coming in on a given day, we combine a variety of data points, including historical and real time sensor data from XY Sense, to dynamically allocate teams to a specific zone or bank of desks for the day. It reduces the mental load on employees and helps workplace teams make more productive use of office space in a hybrid workplace setting."
Regarding the new real-time integrations, Luke Murray, CoFounder & CTO XY Sense, said, "It's really gratifying to see our sensor data being incorporated into the experience layer of offices to solve user experience problems that impact millions of people at work every day. Space utilization data has always been a powerful tool for historical real estate reporting but when you have sensor hardware that can perform with the precision that XY Sense does in real time, it opens up a new realm of capabilities for our integration partners and joint customers."
XY Sense has experienced rapid growth over the past twelve months, doubling its enterprise customer base as corporate real estate teams turn to real time occupancy sensor data to monitor return to office programs, strategically reduce real estate costs and inform the redesign of office spaces for new hybrid working models. The company now powers occupancy intelligence in over 17 countries for some of the world's most recognizable brands, including CBRE, Xero, Toast, Mirvac, Fidelity International, and leading global financial and pharmaceutical firms.
Both real time and historical (up to one million change events) occupancy data feeds are available via the XY Sense Occupancy API. Integration configuration capabilities do vary by partner.