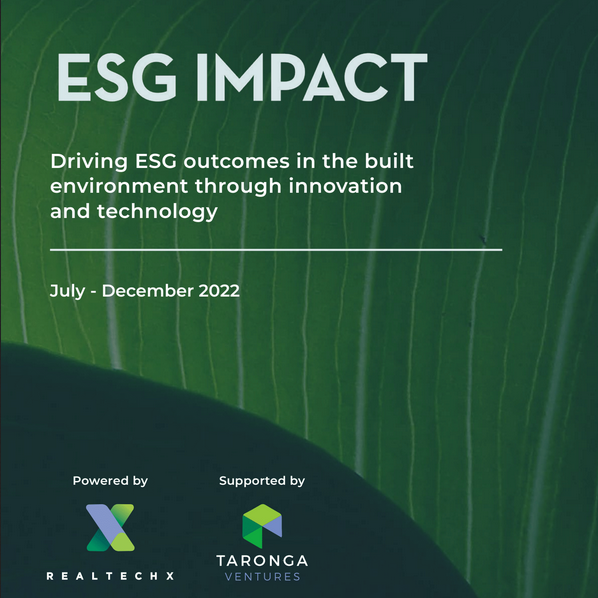 Taronga Ventures reveals the 12 global ESG innovations to drive sustainability in the real estate sector
RealTechX, the innovation platform of Asia's leading built environment technology investor, Taronga Ventures, today revealed the 12 emerging businesses selected to participate in its ESG Impact innovation program for 2022. ESG Impact supports emerging innovation to achieve sustained growth and scale, maximising their impact on the built environment. ESG Impact received over 220 applications from over 30 countries.
The program is a strategic, sector-wide initiative supported by global real estate corporates leading in sustainability, including APG, CapitaLand, CBRE, Dexus, International Towers, ISPT, Ivanhoé Cambridge, PGIM Real Estate and Vicinity Centres. The program's 12 participating technology companies will work closely with Taronga Ventures and ESG Impact program partners to implement innovative solutions and drive better ESG outcomes.
The ESG challenge in real estate is immense, with over USD5 trillion in funding expected to be required over the next decade to decarbonise the built environment (Source: McKinsey). In recent years, global investors and real estate developers have focused on reducing their carbon footprint but the sector is still responsible for 37% of total carbon emissions globally (Source: UNEP). The intersection between institutional capital, innovation-forward corporates, and emerging technologies is key to changing the future of real estate.
Julie Townsend, Vice President & ESG Lead for Europe and Asia Pacific for PGIM Real Estate said, "Innovation and technology will play a huge role in PGIM's ESG objectives going forwards. As an industry, we have 53% of carbon issues around buildings unanswered, with retrofitting reducing by 36% and the move to renewables leading to a further reduction of 11%. We have a long way to go to reduce to net zero and technology has to be the solution behind much of the reduction that we need."
Julian Kezelman, Program Director of ESG Impact said, "ESG has become the primary motivation for real estate corporates to adopt emerging technologies. Sustainability leaders have made significant progress on their ESG agendas over recent years and are now seeking innovations that will continue to move the needle on ESG performance. ESG Impact aims to bring global solutions to our corporate partners to implement into their assets and projects to drive measurable impact."
The program's 12 participants were selected based on the ESG priorities of corporate partners as a representation of global industry dynamics, with a strong focus on ESG reporting, carbon & energy management, climate risk, waste management, data management, and wellbeing, health & safety.
With a core focus on implementing best-in-class innovations in assets and projects, the first cycle of the ESG Impact program comprises leading disruptors such as Ampd Energy, battery-based power to replace diesel generators in construction, Measurabl, ESG reporting software for commercial real estate, and CarbonCure, carbon dioxide utilisation technology which reduces the carbon intensity of concrete.
The 12 selected companies in ESG Impact 2022 are:
1) Alvéole – Urban beehives to track and boost biodiversity and engage occupants
2) Ampd Energy – Industrial scale batteries to replace diesel generators on construction sites
3) Bardee – Organic waste management solution using insects to create agricultural products
4) BindiMaps – Accessible wayfinding solution for people with disabilities
  5) CarbonCure – CO₂ usage technology to reduce the carbon intensity of concrete production
6) Globechain – Construction and fitout waste marketplace connecting corporates with NGOs
7) Measurabl – ESG reporting software for commercial real estate
8) One Concern – Software platform to model climate risks and improve asset resilience
9) SiteHive – Real-time environmental monitoring and management on construction sites
10) Social Value Portal – Social value measurement, management and reporting software platform
11) uHoo – Indoor air quality monitoring and management with easy to deploy sensors
12) WiredScore – Global standard for digital connectivity and smart buildings