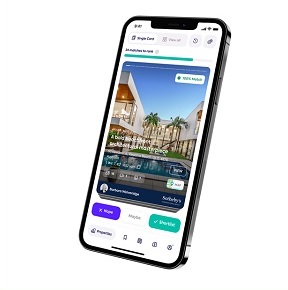 Sotheby's International Realty properties added to tech startup platform Soho.com.au
AI-powered personalised real estate platform Soho.com.au, has announced today it is collaborating with Sotheby's International Realty to showcase their properties on its growing listing syndication platform.
Sotheby's International Realty is a leader in luxury real estate around the world with a presence in more than 80 countries and territories. The brand currently has over 36,000 global properties listed on sothebysrealty.com.he addition of the Sotheby's International Realty brand's high-end properties to Soho.com.au sees the proptech disruptor expand its total listings to over 60% of all properties in Australia.
The collaboration bolsters Soho.com.au's aggressive growth strategy securing a substantial number of Australia's luxury property listings on its personalised real estate matching service.
Founder and CEO Jonathan Lui said the addition of Sotheby's International Realty luxury properties was an important part of Soho.com.au's future growth in the Australian market.
"We're excited to include the Sotheby's International Realty brand's portfolio of unique properties to the soho.com.au platform. Sotheby's International Realty is an established and highly regarded brand that Australian buyers know and trust.
"The diversity of properties that Sotheby's International Realty provides gives buyers more choices and allows our AI personalised platform to provide them with an even greater experience."
Currently, Sotheby's International Realty maintains a strong presence in the Asia Pacific region, with 11 offices across Queensland, New South Wales, Victoria, and Western Australia. Byron Bay Sotheby's International Realty was also recently announced to the brand in 2022.
Founded in 2018 by Airtasker co-founder Jonathan Lui, Soho.com.au has matched over 1.7 million buyers and renters with properties over the past 12 months and forecasts to match a further 500,000 by the end of the year.
Soho.com.au is a disruptor to the property sector, aiming to redefine the expensive paid classifieds based real estate market by utilising AI to instead give buyers, renters, and agents a more personalised experience by leveraging its recommendation engine to find and match people directly with properties.  Real estate agents and property owners also benefit with Soho.com.au's free-to-list policy, cutting the significant expenses currently lumped onto agents who list on sites like Domain and REA Group's Realestate.com.au.
"We're continuing to see strong audience numbers and new listings increase on Soho which shows we are a welcomed alternative for Aussies looking to buy and rent properties" said Lui.