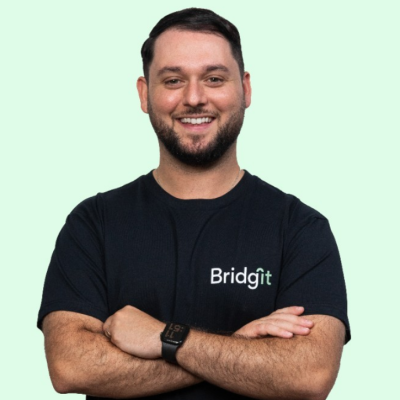 Non-bank lender Bridgit expands broker offering through new partnership with award-winning aggregator Finsure
Tech-driven non-bank lender Bridgit has expanded its broker network this month by partnering with one of Australia's largest mortgage broking groups, Finsure. The new partnership sees Bridgit join the aggregator's lender panel as its first tech-driven bridging solution.
Bridgit is revolutionising property lending with its simple online loan application, 24-hour approval and three-month interest-free period. This expansion of its broker offering will provide more Australian homeowners access to better finance solutions. Finsure is a tech-focused company and one of the fastest-growing aggregator groups in Australia.
Bridgit will fill the gap for Finsure brokers to provide clients with a revolutionary bridging loan solution and more diverse products. Brokers will also benefit from Bridgit's resources, tools and innovative technology to simplify and streamline the bridging process.
This partnership sees Bridgit triple its exposure to the broker network, with Finsure providing access to over 2,400 brokers. It marks the second aggregator partnership for Bridgit.
Bridgit CEO and Co-Founder Aaron Bassin (pictured) said, "The Bridgit team is thrilled to be growing our partner network and helping more Australian homeowners progress in their property journey. We have seen the strength of working with aggregators and are excited to start working with the high-calibre Finsure broker network.
"Our partnership with Finsure is solidified by our shared vision of providing Australian homeowners more flexible and accessible ways to access property financing. Our bridging loan product has diversified the product offering of Finsure's quality network of over 2,400 brokers, giving them and their clients more opportunity to buy first, sell later."
Finsure CEO Simon Bednar said, "Bridging finance has always been a challenge for brokers due to the complex process and traditionally short turnaround times required by the customers. Thanks to their innovative technology and streamlined process, Bridgit has developed a service offering that overcomes these hurdles and places them as a market-leader in the bridging finance space.
"We believe their comprehensive solution will help our brokers better support their customers as they embark on the home buying journey, alleviating some of the time pressures should Lender SLAs increase, or the property market clearance rates continue to drop."
Bridgit Head of Distribution Stephen Doyle said, "The team and I are very excited to work with Finsure. They have proven themselves to be a top-class group, growing into one of the biggest aggregators in Australia. At Bridgit we combine amazing service, technology, and a brilliant product, which I am confident will add value to the Finsure panel and allow us to build a brilliant partnership."