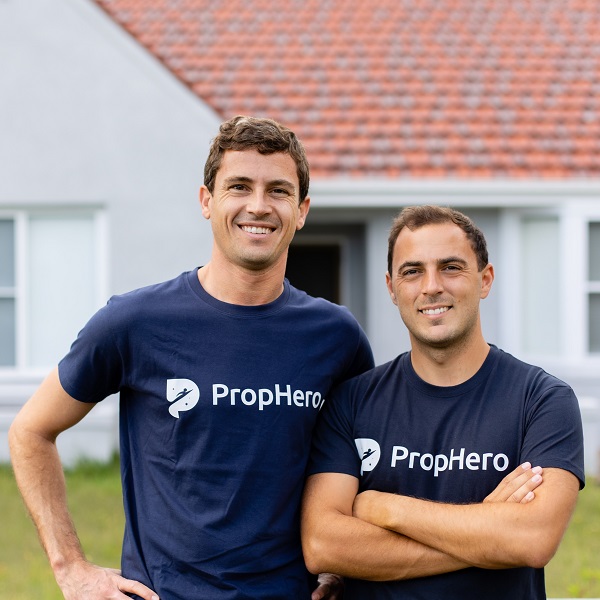 Proptech company PropHero raises an additional $8 million in seed capital
Sydney- and Madrid-based proptech company PropHero has closed an oversubscribed seed round of A$8 million to continue the strong growth trajectory of its multi-award-winning digital property investment platform that offers a full end-to-end solution including an investment strategy consultation and support from a personal property coach.
The round was co-led by Fifth Wall, the largest venture capital firm focused on technology for the global real estate industry, and Samaipata, the early-stage pan-European fund that invests in innovative digital platforms with network effects.
Jelix Ventures and AfterWork Ventures, both investors in the A$1.6 million pre-seed round announced in February 2022, have also participated in the current raise.
PropHero is transforming the way Australian and European property investors find, buy and manage their investment properties.
By combining data-driven and AI-led insights with personalised digital user experiences supported by human expertise, PropHero is disrupting the traditional buyer's agent market and fulfilling its mission to make property investing simple, transparent, time-efficient and more profitable.
"We are helping our clients to build property wealth over time," said Pablo Gil Brusola, PropHero's Co-Founder & Co-CEO.  "After a property strategy consultation with a property coach, our platform shows you personalised recommendations.  Then we make it super easy for you to buy and manage that property because we have a network of trusted real estate professionals who help with the inspection, offer, financing and ownership process."
"Our ambition is to revolutionise the property investment industry globally by using digital technology to replace traditional buyer's agents and make property investment more time-efficient and profitable," continued Gil Brusola.  "Soon, you will be able to access all the services you need as a property investor directly from our apps, such as property discovery, mortgage financing, insurance, property management and tax information."
PropHero has grown rapidly since it was incorporated in June 2021.  Pushing hard to build out the technology and the team, as well as securing clients and capital, PropHero now has 40 employees in Australia, Spain, Argentina, India and Indonesia.
"Seeing the reality of our product-market fit is amazing!" said PropHero's Co-Founder & Co-CEO Mickael Roger. "We have now helped more than 200 clients to find their dream property.  Around 60% of our clients are returning to buy their second and third properties with us and 80% refer their friends and family," he continued.
"Importantly, all our investors are achieving positive cash flow and price growth, even as interest rates go up and the broader property market softens," said Roger.  "In fact, PropHero's clients are outperforming the market and this shows we can use data to beat the downturn."
Harnessing the power of big data and AI, PropHero's proprietary technology identifies investment properties with potential for high return and low risk.  Clients can access the platform's bespoke recommendations 24/7 through a smartphone app and additionally have access to a personal property coach and a network of property professionals.
PropHero's proprietary big data models analyse millions of data points from residential properties in every suburb processing for hundreds of variables.  The advanced AI algorithms then identify the best properties for individual clients to aim to maximise return on investment.
PropHero works closely with mortgage broker partners.  With interest rate hikes impacting borrowing capacity, brokers who refer clients to PropHero are benefiting from a shorter gap between pre-approval and drawdown in order to optimise their revenue.
The investment proceeds will be used to continue to build an integrated online property investment service, to improve the company's data models and digital customer experiences, to grow partner referral channels in mortgage broking, accounting and financial advisory, to hire for key roles and to expand the geographic footprint into new international locations.
Miguel Nigorra Esteban, Partner and European Lead at Fifth Wall said,  "We are very pleased to lead the investment in PropHero and help support its European expansion.  While real estate has always been one of the most sought-after asset classes, it can be intimidating and inaccessible, and PropHero's Buy-To-Let (BTL) model helps change that.  Enhanced by its use of data-backed algorithms and an already impressive track record, we believe PropHero is poised to grow into a global, approachable solution in the real estate investment market."
Jose del Barrio, Founding Partner at Samaipata said,  "We are very excited to support PropHero in this new stage.  We believe the company can enable a new real estate investing paradigm by removing barriers to entry and offering a ground-breaking user experience.  The team's vision of building a multi-dimensional platform is a perfect fit with Samaipata's thesis around digital platforms with network effects.  PropHero's business and internationalisation strategy is very ambitious but we know there is an exceptional team at the wheel to execute it."
Alex Khor, Partner & Co-Founder at AfterWork Ventures said,  "Against a media backdrop of doom and gloom in the property market, PropHero is defying the trend to deliver meaningful results for clients. VCs like AfterWork are most excited by innovative start-ups such as PropHero taking novel, data-driven approaches to traditionally stale industries like property investing."
Before founding PropHero, Mickael Roger was an Associate Partner at McKinsey leading the data and AI practice serving clients in tech, media and telco.  Pablo Gil Brusola is a qualified civil engineer and serial entrepreneur who grew his previous business, GrowPro, to 200+ staff in 20+ countries.
"As property investors ourselves, we realised how old school and inefficient it was.  We are saving our clients hours of time and helping them to make better property decisions," said Roger.
"We are on track to help 300+ investors this calendar year to achieve their property goals.  The feedback we are getting from our clients is exceptional.  I cannot count how many times we've heard:  'This is exactly what I need … you really are my property hero!'" said Gil Brusola.
At the 2022 Proptech Awards hosted by the Proptech Association Australia, PropHero was awarded "Proptech Startup of the Year" and "Most Innovative Startup – Consumer Proptech.