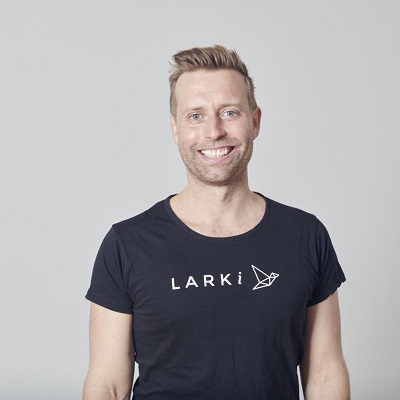 LARKI 3D survey tech platform showcases new releases
Sydney- and Melbourne-based proptech LARKI, the 3D survey tech platform for architecture, has showcased the platform's new releases via a live streamed webinar that also included audience polls and Q&A.
Introducing the webinar, LARKI's Founder and CEO Simon Cookes (pictured) explained the problems architects experience with traditional manual land surveys, stating, "There's a big disconnect between architects and surveyors," he said.  "The vast majority of architects use 3D design software but surveyors deliver them 2D inputs.  It's not an efficient workflow.  Too often, architects simply don't have enough site information."
Cookes cited context detail, elevations, powerlines, heritage features and trees as examples of this missing information.
The solution is fast and affordable 3D laser scanned surveys which can be ordered online from LARKI's website.
The data is captured by LiDAR, which stands for light detection and ranging, and is a system that works on the principle of radar but uses light from a laser.  Working with its imaging partners, LARKI obtains a range of viewpoints and resolutions such as aerial, streetscape, drone and tripod data, which is then turned into 3D point clouds containing millions of measurable points.
In most cases the point clouds are available within a maximum of two hours and the platform also offers high-resolution 2D maps, file sharing and a 3D viewer on the web app.