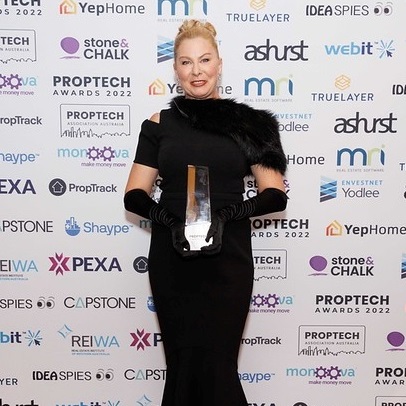 Proptech Association Australia announces Proptech Awards 2022 Winners
Trish Mackie-Smith – Co-Founder at inndox.
Image Credit: Scott&Co

At a gala dinner in Sydney on Wednesday evening, Proptech Association Australia announced the winners of the second annual Proptech Awards.
Over 300 people joined the sold-out event at Dockside Cockle Bay to congratulate the winners of 19 category trophies, 3 best of the best awards, 3 special prizes, and the Proptech Leader of the Year accolade.
Additionally, 50 people watched the event live via video connection.
"We are ecstatic to be celebrating with so many people this evening!  Our annual awards are the culmination of a massive team effort involving our Board, our members, foundation supporters, event sponsors and of course all the entrants and judges.  We are particularly grateful for the support of our major sponsor Ashurst," said Kylie Davis, Founder & President of Proptech Association Australia.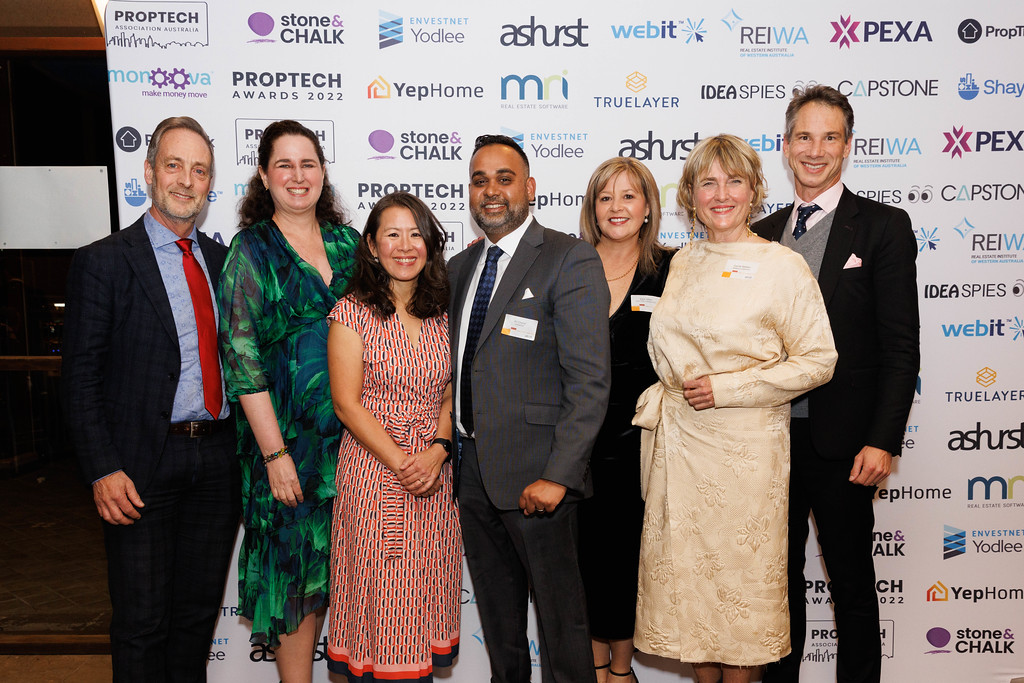 Proptech Association Board (L to R): John Minns, Jennifer Harrison, Marie-Anne Lampotang, AJ Chand, Kylie Dillon, Cecille Weldon and Simon Hayes.
Image Credit: Scott&Co
In her opening remarks, Ms Davis said, "We're entering a golden age of proptech with both internal and external forces culminating to accelerate adoption and investment in the sector.  These forces include the efficiency benefits of proptech to save time and money, plus new trends such as empowering buyers and renters to choose the most liveable home, using data and AI to manage risk, and generating new value from traditional assets."
Ashurst Corporate Partner, and Head of the Venture Capital and High Growth team, Stuart Dullard said, "Ashurst is delighted once again to be the major sponsor of the national Proptech Awards and to support the development of proptech in Australia through our partnership with the Proptech Association.  Congratulations to all the winners!"
The Proptech Awards are organised across three main categories – Start-Ups, Scale-Ups and Established Suppliers – within which there are individual awards for different business solutions. This means that proptech ventures are judged against their peers in terms of company size and maturity by a panel of expert judges.
The evening was co-hosted by Jennifer Harrison, Vice President of Proptech Association Australia, and Peter Schravemade, Managing Partner of REACH Australia.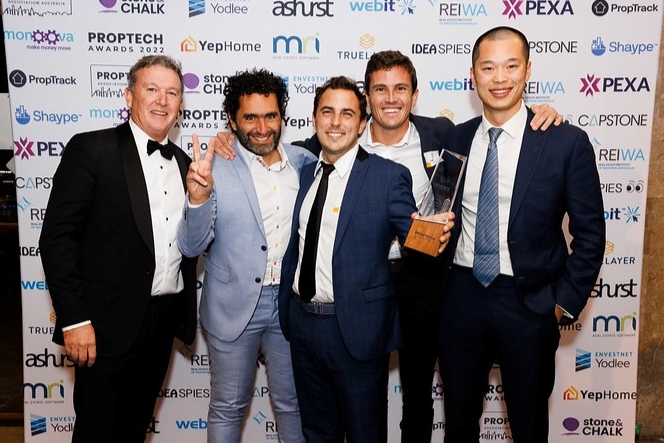 Proptech Startup of the Year winner PropHero, award sponsored by MRI Software (L to R): David Bowie, David Alia, Mickael Roger, Pablo Gil and Ping Du.
Image Credit: Scott&Co
WINNERS OF THE 2022 PROPTECH AWARDS
| | |
| --- | --- |
| Consumer Proptech | |
| PropHero | Most Innovative Start-Up |
| :Different | Most Innovative Scale-Up |
| Real Estate Investar | Most Innovative Established Supplier |
| | |
| Design & Development | |
| utecture | Most Innovative Start-Up |
| Archistar | Most Innovative Scale-Up |
| | |
| Efficiency & Optimisation | |
| Rental Heroes | Most Innovative Start-Up |
| Wiseworking | Most Innovative Scale-Up |
| Houzz Pro | Most Innovative Established Supplier |
| | |
| Ownership, Affordability & Finance | |
| Brickfloor | Most Innovative Start-Up |
| Forbury | Most Innovative Scale-Up |
| DomaCom | Most Innovative Established Supplier |
| | |
| Property & Facilities Management | |
| NowYouCan | Most Innovative Start-Up |
| Bricks + Agent | Most Innovative Scale-Up |
| InspectRealEstate | Most Innovative Established Supplier |
| | |
| Sales & Marketing | |
| canibuild | Most Innovative Start-Up |
| RiTA | Most Innovative Scale-Up |
| Diakrit | Most Innovative Established Supplier |
| | |
| Smart Buildings & Cities | |
| AI Assets | Most Innovative Start-Up |
| My Greener Planet | Most Innovative Scale-Up |
| | |
| "Best of the Best" Proptechs of the Year | |
| PropHero | Start-Up Proptech of the Year |
| RiTA | Scale-Up Proptech of the Year |
| Houzz Pro | Established Supplier Proptech of the Year |
| | |
| Special Prizes | |
| OwnHome | Proptech for Good Award |
| TEAMLINK | Data Accelerator Award |
| Downsizer | Proptech to Watch Award |
| | |
| Proptech Leader of the Year | |
| Trish Mackie-Smith | Co-Founder & CEO, Inndox |