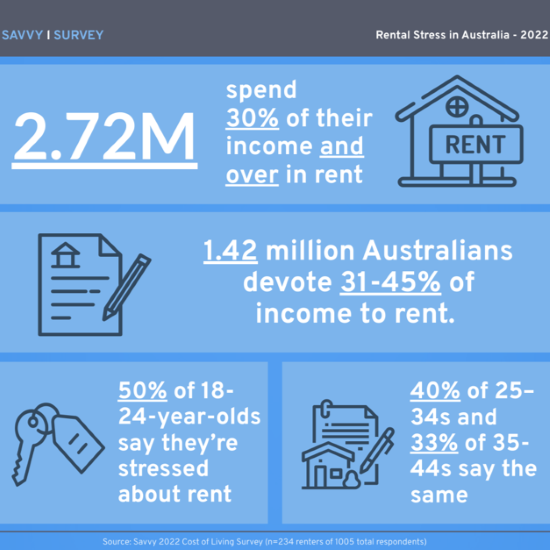 2.72 Million Australians at Risk of Rental Stress: Survey
A representative national survey commissioned by Savvy has revealed that 7.4% Australians (out of a total 23.28% who report they rent their home) say 31% to 45% of their income is going towards paying their rent. More worryingly, 5.8% saying they are devoting 46% to 60% of their income toward rent.
Extrapolated to the wider population, this signals that 1.42 million Australians may be in some form of rental stress, and 1.1 million Australians may be experiencing extreme rental stress. When combined, the total number of Australians spending 30% or more of their income on rent amounts to 14%, or a possible 2,719,000 individuals nationwide.
According to the Australian Institute of Health and Welfare, households or individuals are considered under rental stress if they are spending more than 30% of their income on rent.
With inflation still at 5.1% and wage growth at 2.3%, there's still a big gap between cost-of-living affordability.
The Young Most Stressed
Young Australians have self-reported that they are significantly worried about rent or potential rent increases in the months and years ahead.
50% of 18-24-year-olds surveyed said that rent was on their minds as a big stress point – 40% of 25–34-year-olds and 33% of 33-44-year-olds said the same.
Savvy CEO Bill Tsouvalas says that as numbers of young people stress about rent increase, the further and further away home ownership becomes – and it's not just an isolated financial problem.
"Rental stress isn't just being a bit worried about a lack of money for luxuries, it's a real and persistent financial pressure that affects your ability to pay for necessities," Tsouvalas says. "It can take a toll on your wellbeing, and never really goes away. Renters may be on edge already due to rising costs of living. They may be behind the eight-ball due to COVID-19 lockdowns, reduced hours, and layoffs.
"A sudden excess payment, repair bill, or urgent appliance replacement could set them on the edge of real financial hardship – or put them in that position almost overnight."
If you are experiencing acute mental stress due to finances, contact Beyond Blue on 1300 22 4636 or Lifeline on 131 114.