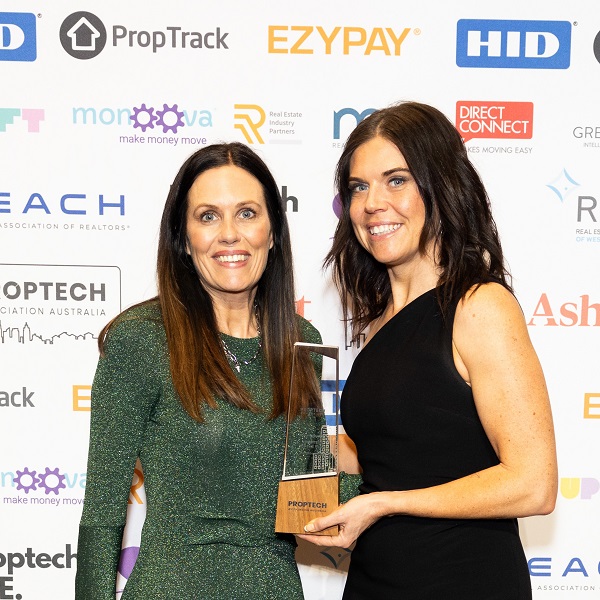 Proptech Association announces 2023 Proptech Awards Winners
At a gala dinner in Sydney on Wednesday evening, Proptech Association Australia announced the winners of the third annual Proptech Awards.
Over 350 people attended the sold-out event at The Fullerton Hotel to congratulate the winners of 24 category trophies, 5 best of the best awards, 2 open awards and the prestigious Proptech Leader of the Year accolade.
"The Proptech Awards are Australian proptech's night of nights," said Kylie Davis, Founder & President of Proptech Association Australia, who co-hosted the event with Peter Schravemade, Managing Partner of REACH Australia.
"The list of this year's winners shows just how much breadth and depth we have in the Australian proptech innovation ecosystem across the entire real estate value chain," continued Ms Davis. "Our national awards are the culmination of a massive team effort involving our Board, our members, foundation supporters, event sponsors and of course all the entrants and judges. Thank you to everyone who has participated."
The major sponsor of the Proptech Awards is Ashurst Lawyers and the gold sponsors are Ezypay, HID and PropTrack. Individual award sponsors include Direct Connect, Green2View, Monoova, MRI Software, REIP and Upplft.
Ashurst Corporate Partner, and Head of the Venture Capital and High Growth team, Stuart Dullard said, "Ashurst is proud to be the major sponsor once again for this year's third annual Proptech Awards in partnership with the Proptech Association. We are delighted to have so many people here this evening to celebrate the amazing achievements of Australia's fast-growing property technology industry. Congratulations to all the winners!"
Over 50 expert judges from Australia and overseas scored 153 high calibre entries so that 32 trophies could be presented to the winners on the night.
The Proptech Awards are organised across three main categories – Startups, Scaleups and Established Suppliers – within which there are individual awards for different business solutions. Importantly, this means that proptech ventures are judged against their peers in terms of company size, resources and maturity.
Here are the list of winners:
| | |
| --- | --- |
| PROPTECH AWARDS WINNERS | |
| | |
| Consumer Proptech | |
| BuyCloud | Most Innovative Startup |
| PropertyDirector | Most Innovative Scaleup |
| Reapit – MoveMeIn | Most Innovative Established Supplier |
| | |
| Data, Analytics, Insights & AI | |
| PropHero | Most Innovative Startup |
| Neighbourlytics | Most Innovative Scaleup |
| PropTrack | Most Innovative Established Supplier |
| | |
| Design, Build & Develop | |
| Release.Me | Most Innovative Startup |
| Archistar | Most Innovative Scaleup |
| PlanRadar | Most Innovative Established Supplier |
| | |
| Efficiency & Optimisation  | |
| Realtime Conveyancer | Most Innovative Startup |
| Realtair | Most Innovative Scaleup |
| Dynamic Methods | Most Innovative Established Supplier |
| | |
| Environment, Social & Sustainability | |
| Evitat | Most Innovative Startup |
| The Room Xchange  | Most Innovative Scaleup |
| | |
| Ownership, Affordability & Finance | |
| Downsizer | Most Innovative Startup |
| Real Flow Finance | Most Innovative Scaleup |
| Deposit Power  | Most Innovative Established Supplier |
| | |
| Property & Facilities Management | |
| Generator | Most Innovative Startup |
| Kolmeo | Most Innovative Scaleup |
| Mobiledock | Most Innovative Established Supplier – Commercial |
| MRI Software – Property Tree | Most Innovative Established Supplier – Residential |
| | |
| Sales & Marketing | |
| ListAssist | Most Innovative Startup |
| Urban.com.au | Most Innovative Scaleup |
| RiTA, powered by CoreLogic | Most Innovative Established Supplier |
| | |
| "Best of the Best" | |
| Downsizer | Startup Proptech of the Year |
| Archistar | Scaleup Proptech of the Year |
| MRI Software – Property Tree | Established Supplier Proptech of the Year |
| RiTA, powered by CoreLogic | Best Residential Proptech |
| Neighbourlytics | Best Commercial Proptech |
| | |
| Proptech to Watch | IMMERSIV |
| | |
| Corporate Proptech of the Year | Boston Projects – Immersion |
| | |
| Proptech Leader of the Year | Sarah Bell, Co-Founder, AiRE Software, a division of CoreLogic |