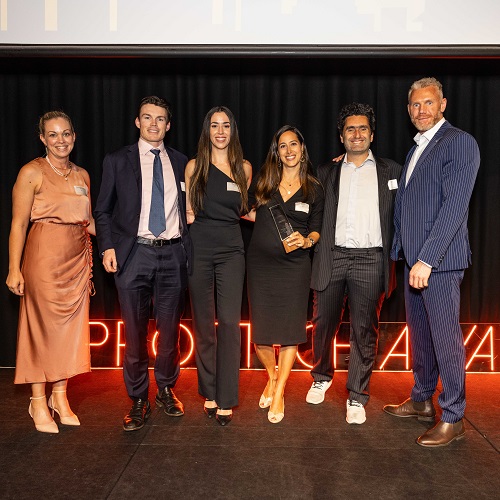 PropHero wins again at the national Australian Proptech Awards!
At the recent Australian Proptech Awards hosted by Proptech Association Australia, PropHero was announced as the winner of "Most Innovative Startup – Data, Analytics, Insights & AI."
The award was accepted by Sophie Hayek, PropHero's CEO Australia (pictured – centre), accompanied by team members (pictured – second left to right) Harry Bennetto, Tessa Kesbah, David Alia and Ben Daniel.
"We're thrilled to be recognised again this year as one of Australia's most innovative proptech startups," said Ms Hayek.  "We sincerely thank PropTech Association Australia for their support. It motivates us to push the boundaries of tech and change the way people invest in residential property."
The Data, Analytics, Insights & AI category of the Proptech Awards is particularly designed for proptechs that capture, analyse and create new products and solutions based on big data to improve the level of insights, analysis and adoption of AI within the real estate industry.
"This award is really special for us because PropHero's proprietary big data models, their analytics and AI-enabled insights, empower our clients to find and buy the best investment properties," added Ms Hayek.
The trophy was presented by Ebonnie Schravemade (pictured – left) on behalf of sponsor REACH Australia.
At the 2022 awards, PropHero won "Most Innovative Startup – Consumer" and "Proptech Startup of the Year."