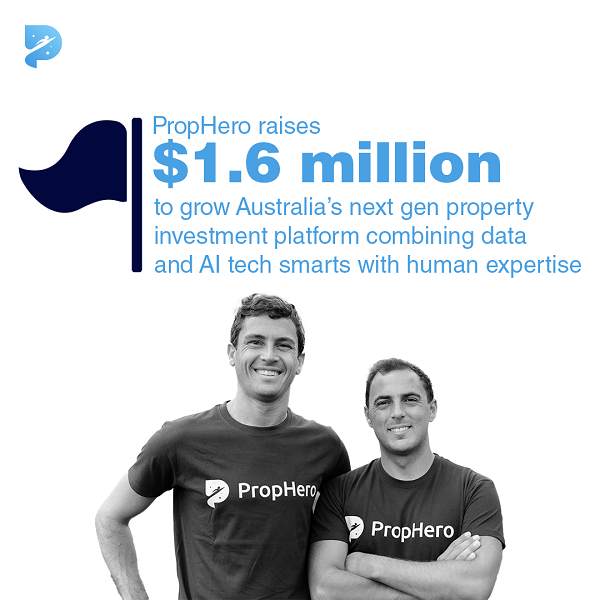 PropHero raises $1.6 million to grow Australia's next gen property investment platform
PropHero has closed a seed round of $1.6 million to accelerate growth of its next gen property investment platform that delivers superior results.
PropHero is transforming the way Australians invest in property by combining tech smarts from data and AI with human expertise to make property investing simple, transparent, time-efficient and more profitable.
The service is delivered via a digital platform that provides a full end-to-end solution.
Since its inception less than 1-year ago, PropHero has built and launched its offering in record time and has already helped clients to buy properties in NSW and Queensland with plans to expand nationally.
PropHero's Co-Founders Pablo Gil Brusola and Mickael Roger saw a gap in the market for "an app for that" to streamline a time-consuming and stressful process and to democratise access to valuable insights from data and AI.
"Our platform makes property investing accessible to a younger generation who have savings and want a simple digital experience. We also have older clients who like our data-driven approach so they can diversify their property portfolios. We're cutting down the time it takes to invest in property by 90% because we have a digital platform and a network of trusted professionals," said Pablo Gil Brusola who has a background in civil engineering.
Harnessing the power of data and AI algorithms, PropHero's proprietary models pull 40 million data points to screen 240 variables in 18,000 suburbs. This unbiased process identifies the right investment properties in both the listed and unlisted markets with potential for high return and low risk. Clients have access to a national network of trusted real estate professionals who assist with the ownership process including inspections, offers, financing, conveyancing, tenants and property management.
"When you are investing in property, it's vitally important to make an informed decision with the benefit of data. For a long time, people have been relying on 'gut feeling' anchored by a belief that property prices always go up. Often they invest literally around the corner from their own home because it's too difficult to do anything else but that's probably not going to maximise your return on investment," said Mickael Roger who has a background in data science. "Our investors are currently outperforming the market for both rental yield and capital gain," he continues.
PropHero also provides clients with educational resources and a personal property coach to determine an investment strategy and provide a full service. It charges a fixed fee of $990 (incl. GST) on engagement and $9,900 (incl. GST) on settlement.
Investors in this seed round include lead investor GFC Global Founders Capital as well as AfterWork Ventures, Jelix Ventures and The Fund.
Commenting on the conviction to lead the round, GFC APAC Partner Melvin Hade said, "GFC is grateful for the trust given by Pablo and Mickael, the co-founders of PropHero, to support them in this long-term partnership and join the Board of the company. We see tremendous opportunity not only in Australia, our first market, but also global markets that we are aiming to expand to as early as this year. Having invested in many leading proptech ventures globally, we saw an outlier in terms of PropHero's traction that made us build conviction very quickly to back Pablo and Mickael."
AfterWork Ventures Co-Founder Alex Khol said, "Property remains a major pillar of the Australian investment landscape, especially for everyday retail investors seeking greater returns on their savings. We believe innovative proptech businesses like PropHero are able to bring the best of data and AI to transform the way individuals access the property market and maximise the return on investment both in Australia and abroad. It's clear there is a growing demand for modern solutions and PropHero has the right strategy and team to make this happen."
Jelix Partner Alon Greenspan said, "We are impressed with PropHero's founders and its product. Pablo and Mickael's mission to make residential property investment as simple and transparent as buying shares resonated with us. The market needed a solution that provided a simple, data driven, proven product for property investments and that's what they have delivered."
The proceeds of the raise will be used to continue to improve the company's data models and digital customer experience, to hire for key roles, and to expand the footprint nationally across Australia and overseas.