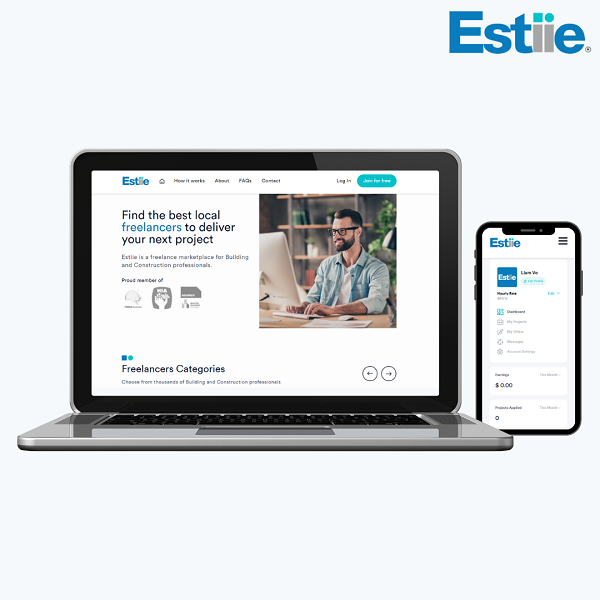 Estiie.com freelance marketplace for Building and Construction professionals is now live
Estiie.com has officially launched Australia's first and only two-sided freelance marketplace exclusively for the Building and Construction professionals, a sector that plays a large part in supporting Australia's economy.
Estiie.com's online platform offers a streamlined and agile solution to reshape how the industry approaches human resourcing. The platform aims to connect thousands of skilled professionals with Building & Construction businesses that are in need of talented workers on specific projects.
With the pandemic creating migration barriers into Australia, the shortages of skilled workers in the Building and Construction industry is becoming a prominent issue. Coupled with the industry's challenges in forecasting labour requirements for future projects, Estiie.com is a timely and welcome solution.
The platform is unique in that it provides an easy-to-use yet complete, end-to-end solution. It includes features such as project proposal creation, professional profile creation, credential verification, document uploading and submission, messaging and chat, and even automated payment and invoicing.
Businesses now benefit from accessing a large pool of qualified professionals and on-demand workers from Architects to Office Administrators, Estimators and Project Managers, and many other roles, across the entire industry in Australia or living abroad. In addition, to simplify the sourcing of talented workers, it also streamlines the hiring process to save businesses time and money.
Estiie has a 'Pay As You Go' cost model, so businesses only pay for the services that they use. Using available technology, they have been able to lower the service fee compared to traditional human resourcing companies with cost savings as high as 30% in some cases. With the platform being so affordable, companies can quickly scale up or scale down their workers depending on construction demand and economic fluctuations.
The platform benefits Building and Construction professionals by offering greater flexibility and additional income streams that are typical of freelancing. Workers can choose from part-time, contract or temporary modes of work.
With the pandemic driving rapid changes in flexible working arrangements, it is no surprise that the freelancing and gig economies are experiencing impressive growth. Estiie.com embraces this trend and ensures that the Building and Construction industry is not left behind.
With the online platform now launched and Estiie gaining traction, they have been in talks with several venture capital firms to explore fund-raising options later this year to further grow their user and customer base, with an eye on global markets in the near future.