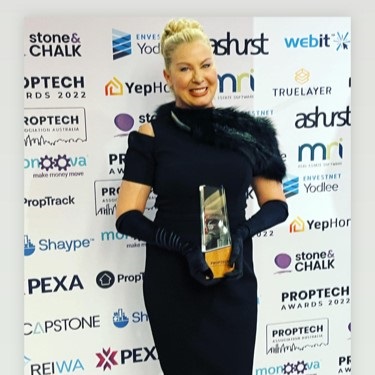 Entries are now open for this year's bigger and better Proptech Awards 2023!
Presented by Proptech Association Australia and sponsored by Ashurst, the third annual Proptech Awards will celebrate the extraordinary innovation, solutions and achievement happening across Australia's dynamic property technology sector.
Reflecting the ongoing maturity and rapid progress within the proptech industry, this year there are seven new awards on offer.
Proptech Association Australia President Kylie Davis said after a year of constant change, competition was expected to be fierce across the country's only nationally coordinated proptech awards.
"This year we aim to present 33 awards. We are recognising a new specialisation for proptechs in Data, Analytics, Insights & AI plus new awards for Commercial Proptech of the Year, Residential Proptech of the Year, Corporate Proptech of the Year and VC & Accelerator Program of the Year," said Davis.
The deadline to enter is Tuesday, 9 May.
Entries will be scored by a panel of more than 40 expert judges and short-listed finalists will be announced in early June.
Winners will be presented at a formal gala dinner in Sydney on Wednesday, 19 July at The Fullerton Hotel. Event ticketing details will be announced shortly.
"Last year we hosted 330 people at a sold out event. This year we have upsized the venue and we expect to issue over 500 tickets! As Australian proptech's 'night of nights,' it's so exciting to celebrate the success stories and highlight some incredible innovation across the entire real estate value chain," said Davis.
Ashurst Corporate Partner and Head of the Venture Capital and High Growth Team, Stuart Dullard, said Australia's maturing proptech ecosystem was attracting plenty of attention from entrepreneurs and investors.
"Ashurst is incredibly proud to be supporting the development of proptech through the sponsorship of these awards, in partnership with Proptech Association Australia, as the digitalisation of the property and construction markets continues," said Dullard.
Davis explained that the Proptech Awards are uniquely structured into three overall categories for Start-Ups (<3 years), Scale-Ups (3-10 years) and Established Suppliers (10+ years).
"This means you'll be judged against your peers – in terms of company size, the resources behind you and your innovation maturity – by our panel of expert judges as they decide who has delivered the best tech across the past 12 months," said Davis.
In each of the three overall categories, Start-ups, Scale-ups and Established Suppliers can enter for awards in eight industry verticals, making 24 individual awards in total for:
Efficiency & Optimisation
Sales & Marketing
Property & Facilities Management
Ownership, Affordability & Finance
Consumer Proptech
Design, Build & Development
Environment Social & Sustainability (previously Smart Buildings & Cities), and
Data, Analytics, Insights & AI.
An additional four open awards will recognise:
Corporate Proptech of the Year
Proptech Leader of the Year
VC & Accelerator Program of the Year, and
Proptech to Watch.
This year there will also be five "Best of the Best" awards judged from winners and finalists across the field of all entrants:
Start-Up Proptech of the Year
Scale-Up Proptech of the Year
Established Supplier Proptech of the Year
Commercial Proptech of the Year, and
Residential Proptech of the Year.
In a change from previous years, only Association members and associates are eligible to enter for an award. Entry is free and unlimited provided multiple entries are differentiated.
The Association is also taking expressions of interest for award sponsors and event partners.