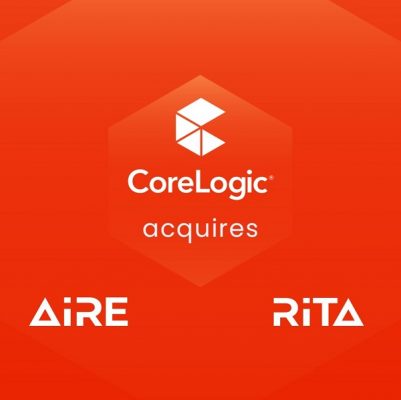 CoreLogic deepens investment in real estate solutions with acquisition of prop-tech firm AiRE
Leading independent property data and analytics provider CoreLogic International has acquired Brisbane-based prop-tech firm AiRE, as part of its expansion across real estate technology solutions.
Building upon its impressive software development pedigree, AiRE specialises in AI driven lead identification and nurture solutions for the real estate industry. With more than 4,000 real estate agents in Australia and New Zealand using the company's digital lead generation and nurturing 'assistant' RiTA and related services, AiRE's exponential growth is testament to the impact the solutions are having within the real estate segment.
Together with the industry's most comprehensive research platform, RP Data, RiTA will be a complementary solution in CoreLogic's growing suite of offerings to the real estate industry which include its new lead generation tools and digital proposal solutions.
In announcing the news, CoreLogic International Chief Executive Officer, Lisa Claes said RiTA's value to the real estate industry has resonated strongly as evidenced by the impressive traction gained in a very short time.
"The acquisition of AiRE aligns with CoreLogic's vision of helping our real estate partners identify and leverage actionable leads while at the same time streamlining business performance through data, technology and the advanced capabilities of machine learning and AI," Claes said.
"Agents will appreciate the intrinsic value of their CRM data but may have struggled to fully commercialise and maximise its full potential. Timeliness is paramount for agents to maintain contact with clients and this solution will ensure they remain front of mind.
"Along with the clear benefits to CoreLogic and its clients, AiRE will now be powered by the most extensive property data universe across Australia and New Zealand, delivering a unique suite of property and market insights for consumers, and property level triggers and events, to continually improve the model's AI performance," Ms Claes said.
CoreLogic's Executive, Product, Data and Analytics, Tim Jenner, said AiRE's industry-leading AI helps agents to efficiently leverage their own intellectual property and enhance their personal brand.
"Our clients tell us the prospecting and nurturing process remains one of their largest pain points, and often takes agents away from what they do best, selling properties. RiTA effectively automates the task of finding and qualifying leads at scale, with impressive results," he said.
"CoreLogic continues to make significant investments in its core real estate offerings, and bringing new technology such as RiTA into our solutions toolkit adds significant value to agents who want smart ways to elevate their business," he said.
AiRE's founder and CEO Ian Campbell said the synergies between the two companies made sense for existing clients as well as AiRE's employees.
"This merger means our clients now have access to the industry's most comprehensive data which will catapult RiTA's capability to new levels," Mr Campbell said.
"CoreLogic's significant operations in the UK, a large market with a similar structure to Australia and New Zealand, will also present opportunities to expand our reach and enhance RiTA's functionality. CoreLogic will also provide a significant boost in support resources, which will further enhance our clients' experience and allow us to accelerate the growth of our award-winning technology."
AiRE's Co-Founders, Mr Campbell and Sarah Bell, and the company's leadership team will continue to lead the business as part of CoreLogic.
"We're excited about our future and leveraging CoreLogic's immense skillset and data. For our existing team this gives us extra support, additional sales opportunities and access to learning and industry mentors that we're very eager to take advantage of," Campbell said.
Mr Jenner added, "CoreLogic is focused on delivering increased value to agents, with more products in the pipeline positioning the agent at the centre of the property journey ecosystem."
CoreLogic's products are underpinned by its unrivalled property insights, combining data offerings derived from public, contributory and proprietary sources, which span more than 40 years of collection and covers almost 100% of the Australian and New Zealand residential property markets.