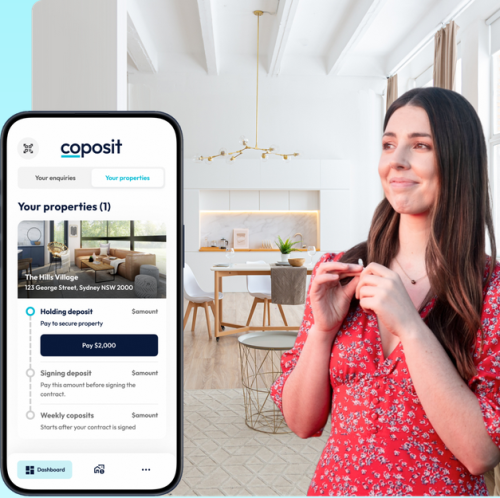 Coposit's game-changing home deposit platform aims to facilitate $1 Billion in property sales
Home deposit disrupter Coposit is gaining traction with homebuyers looking for a leg-up during the housing affordability crisis with its client base quadrupling since launching its platform to the market and the company setting its sights on facilitating up to $1 billion in property sales over the next 12 months.
The Sydney-based Coposit – which offers home buyers the opportunity to buy property without an upfront deposit and no additional fees – says it expects revenue to double over the next two to three months, along with the number of developers that have adopted the Coposit model for their projects.
This time last year, Coposit had five projects on its deposit-saving platform. Now the company has 38 projects on its books with expectations that this will triple by the end of FY24.
Coposit, co-founded and headed by brothers Chris and Dan Ferris, was launched two years ago primarily to provide a solution for first homebuyers to get into the property market without having to come up with a 10 per cent upfront deposit.
The platform is seen as a gamechanger for the property market, allowing buyers to secure their new off-the-plan apartment or house-and-land package by paying the deposit in instalments. Once the contract is signed, the buyers make weekly instalments, known as 'coposits', over the course of construction.
The company has already assisted hundreds of first homebuyers to get into the market through its no-fee, forced-savings program. It has also assisted investors looking to free up cashflow on off-the-plan purchases.
After starting in Sydney, Coposit has broadened its base to Victoria, the ACT and Queensland where it has aligned with developers to enable a cohort of eligible buyers to get into the market.
"The growth of our business is definitely being driven by cost-of-living pressures impacting the capacity of property buyers to save for a deposit," said Coposit CEO Chris Ferris.
"We've got record low employment, so people have the incomes to get onto the property ladder, but not many people have $80,000 or $100,000 in the bank to lay down a 10 per cent deposit when they are looking to purchase.
"Our product has been designed as an answer to this affordability issue and enables not only first homebuyers, but investors, to pay their deposit as a savings plan, with no additional fees or charges, before purchasing a property off the plan.
Ferris said Coposit has also been gaining traction with developers for their off-the-plan apartments and house-and-land projects.
"Developers see Coposit as a platform to secure additional sales from buyers who otherwise may have not been able to purchase without a deferred payment or forced savings plan."
Coposit has helped facilitate over $150 million in property acquisitions so far this year.
"With the number of developers joining the platform each month, and many more exploring the benefits we can offer, Coposit could potentially facilitate up to $1 billion in off-the-plan property transactions over the next year," said Mr Ferris.
Coposit says discussions with banks indicate they are very supportive of the platform as a solution in assisting buyers to enter the property market.
"The banks we have engaged with understand that Australians are facing a major conundrum in the property market that is proving problematic," said Ferris.
"We have a massive housing shortage, which is creating challenges for governments at local state and federal level, while at the same time affordability is being driven up by this lack of supply – meaning property prices are now out of reach especially for young people.
"What we have done is look at the issues and developed a strategy that takes the burden away of coming up with a lump sum of tens of thousands of dollars upfront while allowing people to save for their property but get to a significant deposit position prior to settlement."
Coposit's business has grown organically over the past year, with developers and buyers coming on board after exploring the benefits of the deposit-payment platform.
"Our business is a game-changer that radically changes the way people need to save for a property deposit," said Mr Ferris. "We're growing rapidly because we are fast-tracking the ownership goals and dreams of Australian homebuyers, in many cases by years."