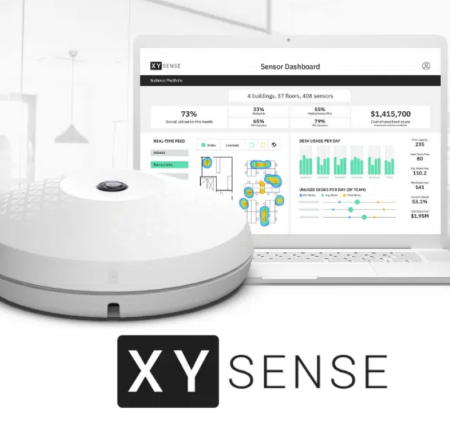 XY Sense announces new proprietary detection algorithm with market-leading accuracy
XY Sense, the most actionable occupancy intelligence platform for corporate real estate teams, today announced deployment of an over-the-air firmware upgrade for customers with a new, patent-pending algorithm that can detect human occupancy within two seconds across 1,022 sqft (95 sqm) of space with >98.5% accuracy.
Developed by XY Sense's in-house team of machine learning experts, version two of the XY Sense detection algorithm (XYDA2.0) utilizes new machine learning techniques to rapidly detect live human occupancy, avoid duplicate detections and more efficiently process raw detection data on XY Sense Area Sensors.
Two years in the making and extensively tested in both XY Sense labs and participating beta customer environments, the upgraded detection algorithm has been shown to deliver significant reductions in duplicate detections (-83%) and false positive detections (-33%) (e.g., office plants detected as humans), as well as notable increases in true positive (+27%) detections. Overall, XYDA2.0 achieved an average precision score of >98.5% across all test environments, representing a +2% improvement on XY Sense's previous detection algorithm.
Luke Murray, Chief Technology Officer of XY Sense, said, "While a +2% precision improvement may sound modest given our high baseline, we know that the accuracy of every single occupancy detection matters when customers are integrating our live sensor data into the experience layer of their workplaces. Two percent matters when you need to know if a desk or room is free in real-time. This new detection algorithm is a game-changing step in our mission towards ~100% sensor accuracy."
As with all previous and future versions of the XY Sense Area Sensor, the privacy of individuals within the space is protected at all times. XY Sense only transmits 100% anonymous "X" and "Y" ground point coordinates and anonymous metadata. It is not capable of identifying individuals. The firmware upgrade will be deployed remotely, over the air, and there will be no additional charges for existing customers.
"This release demonstrates our commitment to delivering the highest-performing occupancy sensor on the market," said Alex Birch, co-founder & CEO XY Sense. "We offer enormous coverage without compromising on real-time accuracy. Also, our hardware just keeps getting better with continuous over-the-air updates and AI-powered feature enhancements. It's one of the key benefits of choosing an occupancy sensor solution built on a computer vision technology platform. You simply get more ROI from your sensor investment."
XY Sense has experienced rapid growth over the past twelve months, doubling its enterprise customer base as corporate real estate teams turn to real-time occupancy sensor data to monitor return-to-office programs, strategically reduce real estate costs and inform the redesign of office spaces for new hybrid working models. The company now powers occupancy intelligence in over 17 countries for some of the world's most recognizable brands, including CBRE, Xero, Toast, Mirvac, Fidelity International, and leading global financial and pharmaceutical firms.