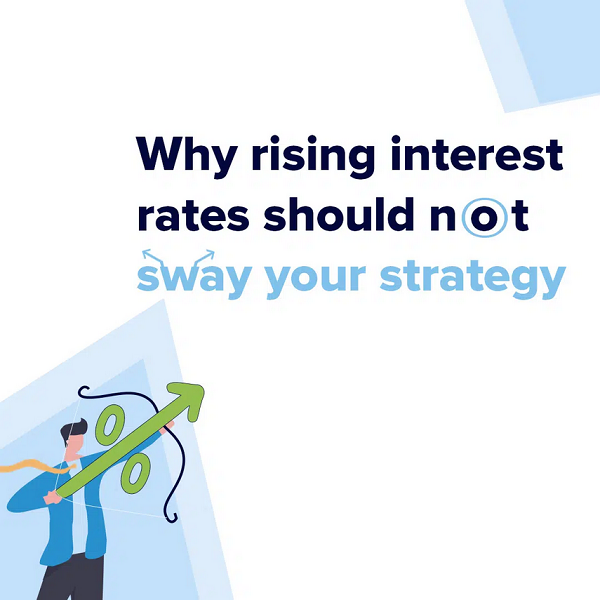 When is the right time to invest in property?
By the PropHero team.
Property is a long-term value creation strategy.
Buying the right property – and avoiding the wrong property – is much more important than trying to time the market.
According to economists, a 1% increase in interest rates reduces housing affordability by 10%. So higher interest rates could make property prices go down.
This theoretical thinking is why some investors may be inclined to wait to make their next investment. However, this is not something we advocate at PropHero.
We believe it's more beneficial to get in the property market and stay invested for the long-term – and do your homework really well about the fundamentals – rather than worry about whether now is the best time.
Investing in property for long-term wealth creation is a discipline that you should practise consistently over time.
Time in the market … not timing the market
There's a proverbial saying in investing that what matters is "time in the market … not timing the market."  This means that you should buy and hold – with regular evaluations – as the market goes through its cycles.
On the other hand, market timing is a strategy where you try to identify the best times to buy and also to sell. Advocates propose that successfully forecasting the ebbs and flows of the market can result in higher returns.
The problem with this approach is that it's very hard to know whether you got your timing right due to skill … or luck!  (And relying on luck is not a sensible wealth creation strategy.)
One of the biggest disadvantages of the market timing approach is being out of the market when it unexpectedly surges upward, potentially missing some of the best-performing moments. For example, two years ago, when the pandemic really started to bite, who could have predicted that Australia's property market would be where it is today?
The experts don't always get their predictions right!
Focus on the fundamentals to maximise your return
Many new investors have entered the market in the last few years without really doing a lot of due diligence or understanding the drivers of return on investment (ROI) such as capital growth and rental yield.
There is a popular belief that "you can't lose money on bricks and mortar" but even recent history tells us that property prices can go down in the short-term hence it's not appropriate to buy anything at any price.
That's why PropHero's approach is centred on data and predictive models.
Our platform only picks positive cash flow properties for clients who have made an investment plan, so our clients should be resilient to any adverse short-term market moves.
Good rental properties are always in demand from tenants in the right locations, in fact, with the borders re-opening and the tight labour market, rents are increasing fast in key locations because there just isn't enough supply in the rental market.
Higher interest rates can bring opportunity for investors
At its May meeting, the Reserve Bank of Australia (RBA) raised the benchmark lending rate from its historic low of 0.10% to 0.35% per annum, a move that was widely anticipated.
And it's clear that at least one or two more increases should be expected before the end of the year.
It's totally understandable that property investors want to know whether this means they should be more cautious. At the same time, it's worth considering that rising interest rates can actually create more opportunity for property investors to pick up fantastic properties because there will be less competition from other buyers including owner-occupiers who are unlikely to be approved for interest-only financing.
Time is your friend
Short-term gains and losses are possible but you need to be in property for the long haul to have the best chance of weathering the ups and downs, and of achieving your investment goals.
At PropHero we know real estate success depends on strategy and longevity of time in the market and we are here to help you build your portfolio over the long-term. We have fixed, transparent fees and offer you all the hands-on help you need to buy, finance and manage.
Book a free investment session and learn how, even with low minimums, you can get access to some of the best property investing opportunities in the country by working with PropHero.