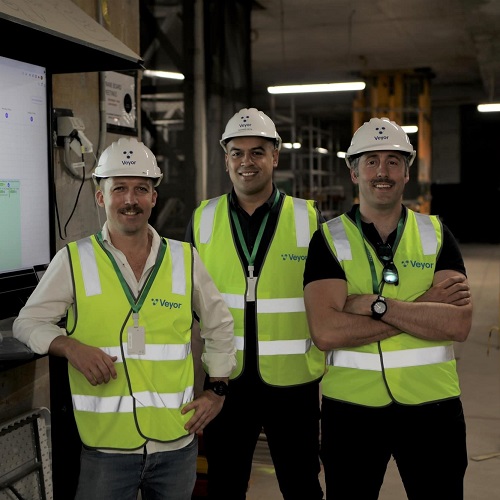 Veyor eyes UK and US market expansion, doubling Aussie workforce
Veyor has just concluded an equity capital raising topping $4 million, piquing the interest of construction industry heavyweights.
Veyor's technology has been backed by investors including Rob Phillpot and Leigh Jasper who were impressed by Veyor's success winning prestigious projects and clients in the short time frame since its founding.
Other investment came in from up-and-coming funds such as Spring Capital and Helix Ventures.
With a massive recruitment drive underway, the company plans to use the capital to double its Australian workforce and grow its R&D to expand its product range.
Veyor sparked market interest with the development of their market-leading construction app which is revolutionising how Australia's largest building and infrastructure projects are managed. The Veyor platform is already helping streamline complex supply chain coordination on mega projects including stadiums and major rail and station developments across Brisbane, Sydney and Melbourne, providing crucial time savings and significant cost reductions.
CEO & Co-Founder, Richard Fifita, said interest in the company's capital raising, particularly from industry heavyweights, exceeded expectations.
"We had only set out to raise $3m, and the level of interest we received was a clear indication of the potential for Veyor to become one of the most successful construction technology companies in Australia and an acknowledgement of the calibre of the team we have on board," Fifita said.
"Investors have commented that the maturity of our company stands out, despite being a relative newcomer. This is only the start for Veyor and we are excited to continue our growth into adjacent markets and new regions including the US and the UK."
Annual Recurring Revenue (ARR) has surpassed $1million and the team anticipate a continued acceleration in growth
Rob Phillpot, one of the co-founders of Aconex which was sold to Oracle for $1.6B in 2017, is among those to have invested.
"The public perimeter of construction sites is a busy, dangerous and chaotic place – full of trucks, heavy equipment, materials, busy roads and the public. Veyor takes this chaos and creates order. It's a no brainer," Phillpot said.
Veyor is now widening its product range expanding its market from construction to facilities management, with a focus on access management and scheduling.
"There are a lot of synergies between construction and facilities management, and we've attacked problem areas that are common to both, allowing us to easily expand our product range across both sectors," Fifita added.
Proof of that push to explore other opportunities is the recent addition of Scentre Group to Veyor's client list.
"That is the calibre of clients and partners that Veyor is attracting and shows the potential of our business."