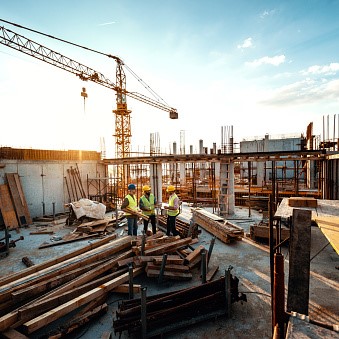 The "Uber Eats" of Construction
When Veyor's Co-Founder, Rich Fifita, came up with the idea for Veyor, he knew it was going to be a game changer and revolutionise the industry.
Fast-forward a few years and Veyor has been dubbed the "Uber Eats" of the construction industry due its slick supplier tracking feature, and is fast becoming the must-have app on construction sites.
With a growing global footprint, Veyor has cemented itself in the local market and has produced serious benefits on major projects such as the Sydney Metro project.
Managing logistics on complex work sites is a stress known all-too-well by project managers and engineers on large infrastructure projects across Australia. Clashes and delays are common and cause ripple effects that are felt across vast supply chains.
Juggling and tracking hundreds of deliveries per day, using a whiteboard and a spreadsheet, only to have them cancelled or rescheduled can cause major project delays in construction.
When Lendlease began work on Sydney Metro, Australia's biggest public transport project, Andrew Smith, SMMP Senior Project Engineer, knew that success would hinge on management of logistics and the coordination of the number of heavy vehicles heading into the city centre. The Sydney Metro Martin Place project needed a streamlined process across its three sites, reducing the risk of costly delays and implementing crucial safety standards for heavy vehicles.
As the design and construction partner for the new Sydney Metro Martin Place Station and over-station buildings, Lendlease found the solution in Veyor, a live platform that eliminates the need for manual scheduling that provides end-to-end coverage, including driver access. The platform also has a tracking capability to live track logistics and safety aspects.
"When we engaged Veyor, we knew they would have a clear understanding of industry needs and the app proved us right," said Smith.
Supply chain and scheduling challenges
When Sydney Metro began, the group of contractors responsible for its delivery wanted to ensure the project was run in the most efficient way possible. One of the biggest challenges was to streamline communication across the vast supply chain and the multiple project interfaces. For example, thousands of trucks per day would be moving across the extensive rail network access points, multiple station sites and the above station developments.
"Just as Coles and Woolworths are only as successful as their ability to deliver goods to retail stores; our success is made or broken on our ability to supply goods to our many construction sites," said Matt Budrodeen, Inventory Controller at Systems Connect for the Sydney Metro City & Southwest tunnels project.
Systems Connect is a joint venture between CPB Contractors and UGL that will deliver the Line-wide works package for Sydney Metro.
"One of our biggest challenges is logistics. Our loading zone at Martin Place North is 40 metres long and houses two tower cranes. Once we have two trucks within the loading zone, we are full and if deliveries arrive unscheduled, sending a truck around the heart of Sydney's CBD to look for a parking spot is not an option," added Smith.