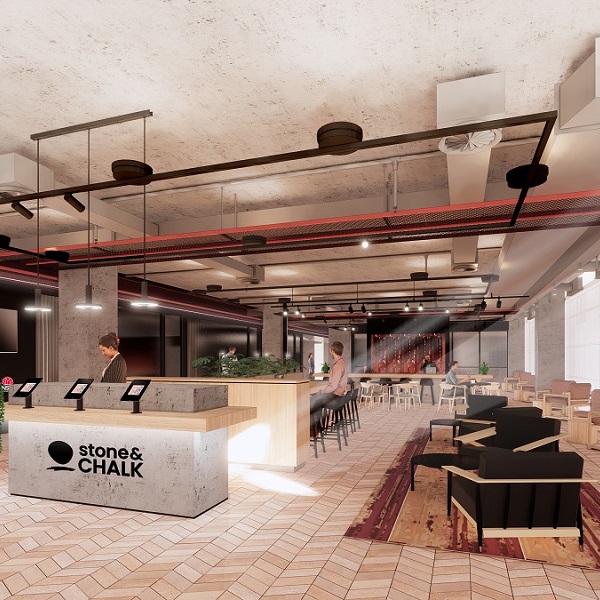 Stone & Chalk unveils first residents for new Scaleup Hub at Tech Central
The Stone & Chalk-operated Scaleup Hub at Tech Central, set to open its doors in July, has today unveiled its first set of residents. As the first Scaleup Hub backed by the NSW Government, Stone & Chalk is committed to turbo-charging Sydney into one of the world's leading technology cities.
New residents Downsizer, Education Perfect, Nano Dimension,  The Nudge Group,  Open Sparkz, Pax Technology and Swoop Funding will be the first residents contributing to the ecosystem of innovation that the Scaleup Hub has to offer, setting the precedent for the next generation of technology that Stone & Chalk is helping foster.
The establishment of Stone & Chalk's Scaleup Hub at Tech Central is a notable step forward in realising Australia's ambition to establish itself as a global leader in innovation and technology in Sydney. Beyond sophisticated physical infrastructure, the next generation of local and international emerging technology founders will have access to vital resources in the form of extensive community leaders, industry networks and connections to capital.
"It's an honour to be the first Government supported scaleup hub that will support our residents in their transition towards their next phase of growth," said Stone & Chalk Sydney General Manager Marie-Anne Lampotang. "Our first residents include companies from a diverse range of sectors ranging from electronics to edutech – these companies will help Stone & Chalk achieve its goal of transforming Australia into a more sustainable technology-driven economy."
Nano Dimension is one of the first residents to be welcomed into Stone & Chalk Group's Sydney Scaleup Hub. Nano Dimension has taken a legacy production process that has been unchanged for the better part of the past century and condensed the production of electronics in a way that is more sustainable, efficient and secure.
"Coming to Australia as an international tech startup who wanted to hit the ground running, we needed more than just a nice office and beer on tap to thrive," said Omer Tangi, Country Manager of Nano Dimension. "Being in the centre of an environment that not only offers you access to industry experts but also puts you in close proximity to leading institutions such as the University of Technology Sydney (UTS), who is actually one of our first customers in Australia, will set you up for success.
"We are using advanced 3D printing technologies to disrupt, reshape and redefine the future of electronics production, creating an eco-friendly and intelligent on-demand process. It's inspiring to share the same mission with the NSW Government and Stone & Chalk to take the tech industry to the next level through collaboration opportunities."
The Scaleup Hub at Tech Central will be home to purpose-driven emerging technology companies solving the world's greatest challenges, giving founders the opportunity to rub shoulders with other Tech Central residents including Atlassian, Commonwealth Bank, University of Technology Sydney, Cicada Innovations, The University of Sydney as well as a number of Venture Capital firms located in Surry Hills including AirTree.
"Prior to the development of Tech Central, local and international emerging technology companies did not have access to the curated scaleup environment required for expansion," said Stone & Chalk Group CEO, Michael Bromley. "The NSW Government recognised the existing potential within Sydney to fill this gap through Tech Central, which will bring 25,000 innovation jobs to the workforce and help future-proof our economy. We're proud to be championing this vision at Scaleup Hub with the brightest local and international emerging technology companies leading the charge forward."
The Scaleup Hub is inviting applications from ambitious startups looking to grow. To find out more, please visit: www.techcentral.stoneandchalk.com.au