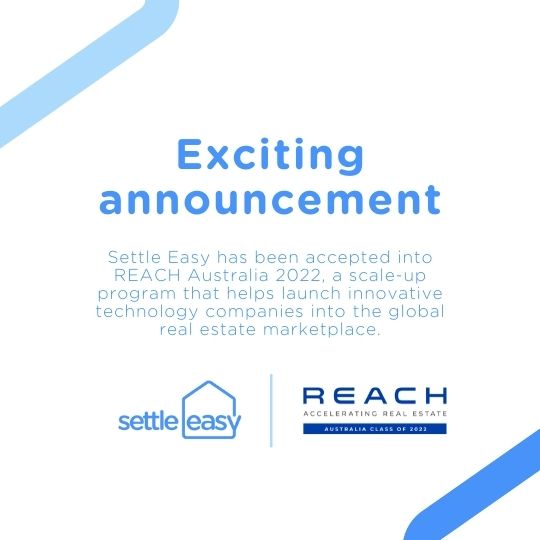 Settle Easy accelerates growth with the 2022 REACH Australia Program
Settle Easy is excited to be part of the 2022 REACH Australia Accelerator, a unique real estate technology growth program operated by Second Century Ventures, a strategic technology investment fund.
This is a big deal for Settle Easy and a long way from our beginnings as a small proptech start up. We're well and truly on our way to becoming a dominant force in Australian online conveyancing.
We'll be joining an impressive stable of growth companies across the real estate ecosystem including success stories like ActivePipe, RateMyAgent, Soho and Propic, who have also benefited by plugging into the power of this leading program that provides education, mentorship and market exposure to one of the world's largest industries.
Our key mission is to simplify the legal process of transferring property ownership so becoming part of this global movement with more than 1.2 million members including real estate executives, national brands, developers, real estate boards, multiple listing services, brokerages and innovators will be a real turning point for us.
We've worked hard at simplifying the process of conveyancing for thousands of happy customers by moving conveyancing online, focusing on customer service delivered by highly skilled property lawyers and professional conveyancers and delivering a personalised legal service in a user-friendly high-tech environment.
It's a real vote of confidence that apart from accepting us into their REACH Australia Class of 2022, REACH has also participated in our current Series B funding round.
By joining this unique global real estate technology growth program, Settle Easy looks forward to continuing its uphill trajectory in one of the largest industries in the world.
We can't wait to participate in the 2022 REACH Australia program  to:
Receive support from their incredible mentors and global network
Join the impressive list of alumni
Access top industry executives in Australia and around the world
Increase our exposure
Drive revenue growth with the best of the best.
Quotes attributable to Settle Easy CEO, Sam Almaliki
'Joining the 2022 REACH Australia Program and tapping into the minds of the best team in the business is sure to be a good thing for Settle Easy. We can't wait to see where this opportunity will take us as we continue to grow and expand our horizons here in Australia and overseas.'
Quotes attributable to REACH Managing Partner, Shelli Trung
'Settle Easy is the perfect fit for us. They're the sort of innovative business that is working hard to solve one of the myriad challenges faced by the real estate sector. Making the conveyancing part of any property transaction easier and more transparent is not an easy nut to crack, but if anyone can do it, we have faith that Settle Easy can.'