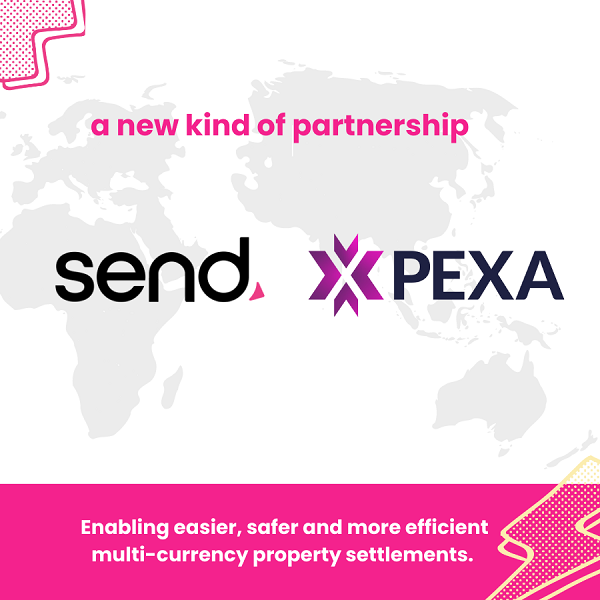 Send Payments and PEXA team up to streamline multi-currency property transactions
Australian property lawyers and conveyancers will now be able to seamlessly facilitate multi-currency property transactions on behalf of overseas clients – thanks to a new collaboration between Send Payments and ASX-listed PEXA.
Pairing Send's international payments and foreign exchange services with PEXA's world-first digital property exchange will provide consumers with a faster, cost-efficient solution to previously complex settlements.
"Settling digitally enables the industry to support their clients anywhere, anytime. And thanks to this new collaboration with Send Payments, a key friction point, the transfer of funds overseas, has been addressed – further enhancing the property buying and selling experience for consumers" said Lisa Dowie, PEXA Chief Customer Officer.
"We're delighted to welcome PEXA to the Send partner network," said Paul Billing, Chief Executive Officer at Send Payments.
"This new collaboration between Send and PEXA is a perfect example of enterprises coming together to further enhance and extend value offering for their respective industries."
It further signifies our intent in the Enterprise space; packaging up an international payments engine for large businesses who can in turn extend the offering out to their clients. International currency transfers is a fiercely competitive marketplace and we've worked closely with PEXA team to solve some existing challenges and provide a seamless experience practitioners within the industry," added Billing.
Send expects this collaboration to be the first of several many, which will be announced in the coming months.