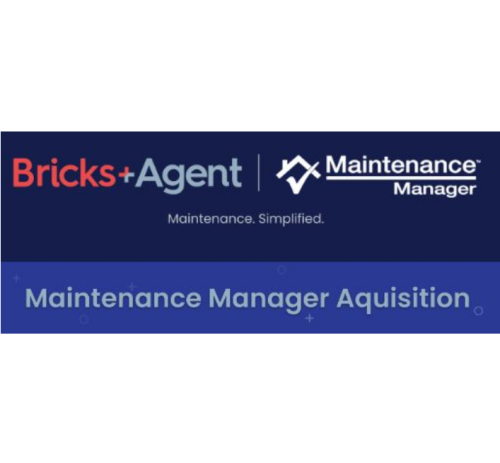 Revolutionary PropTech significantly expands its customer base
Bricks + Agent, 2022 winner of the most innovative PropTech platform and the largest property maintenance platform in Australia and New Zealand, has joined forces with Maintenance Manager, a pioneer in the property management maintenance space.
Bricks + Agent is a revolutionary technology solution for property maintenance. With more than 800k users and 30k tradies on its platform, Bricks + Agent has a pipeline of almost 300k properties and growth opportunities and has partnered with all leading property management and inspection solutions across the region some of which are deeply embedded with single sign on.
Today, it announced the integration of Maintenance Manager clients to its platform from Home Trades Hub Australia (HTHA), a first generation platform in the same market segment.
The arrangement will bring together all clients on a unified basis, using The Bricks + Agent platform, which will use the existing scale to continue to grow the market segment.
This deal will add significant volume to The Bricks + Agent's existing client base which includes property giants, Fortune 500 member JLL, Meriton (Australia's largest apartment builder) and Little Real Estate (owned by billionaire Paul Little).
Garry Mulvay, CEO at HTHA will also take a seat on the Bricks + Agent Board from January 2023. The deal provides ongoing (and expanded) opportunities to service clients with PropertySafe's class-leading safety and compliance inspection services.
"Both platforms are a natural fit for one another and share the ambition to deliver smoother maintenance transactions for all stakeholders. Our growth aspirations are aligned. We are also both actively targeting the $21bn property management Total Addressable Market. The acquisition creates a singular focus on this goal," said Rafael Niesten, Co-founder of Bricks + Agent.
Rafael continued by explaining why now is the right time.
"I first discovered Maintenance Manager when reviewing the competitive landscape at the start of our business journey six years ago. Since then, Bricks + Agent has continued to innovate, and we've recorded record growth year on year. In November 2021, hipages Group invested in us. That has assisted us in fuelling the growth of the business" he said.
Bricks + Agent is a data powerhouse in the property technology arena and provides insights to users across the spectrum of their decision-making processes. This acquisition widens the data landscape, allowing them to pave the best way forward for property managers, tradies, homeowners and tenants.
It also enables Bricks + Agent to accelerate its growth plans and roll out its unique technology to more tradies, property managers, social housing providers, homeowners and tenants. Technology features include AI powered smarts and work flows, Jarvis the personal property management assistant, a simplified user interface and business intelligence and insights.
Garry Mulvay, CEO Home Trades Hub explained why the deal aligns with their growth plans.
"We see this as a fast way to deliver our strategy by growing in the real estate and social housing maintenance space while continuing to enhance and grow our established inspections business. To capture the growth opportunities ahead of us we had to make a significant investment to re-platform Maintenance Manager or seek another group that has the innovative tech and aligns culturally. Bricks + Agent has impressive tech, growth, and industry impact. They are well known for enabling property managers to give their clients peace of mind and helping tradies access a steady pipeline of work, all while streamlining operations and workflow. This makes them the right choice," he said.