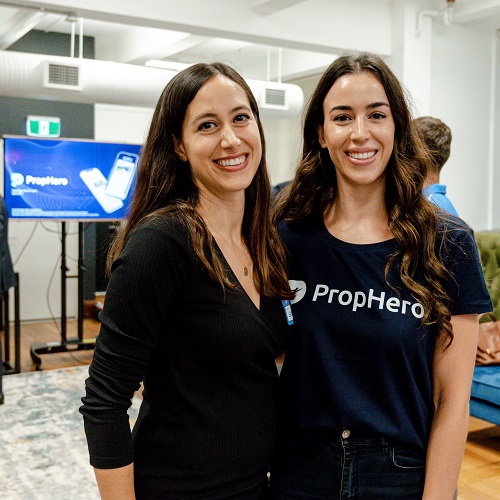 PropHero celebrates its second birthday with continued market outperformance, new in-app feature and global move
Sydney and Madrid-based digital property investment platform PropHero has celebrated its second birthday!
PropHero was founded in June 2021 by Mickael Roger and Pablo Gil Brusola who are seasoned property investors and entrepreneurs. They wanted to reinvent property investment to make it simple, transparent, time-efficient and more profitable by using big data models and digital technology.
The multi-award-winning proptech company has grown rapidly since its inception and was named "Proptech Startup of the Year" by Proptech Association Australia in 2022.
"After only 24 months of operations, we've proven that our data-led approach combined with local property experts can transform the way Australian and international investors find, buy and manage properties that outperform the market," said Sophie Hayek, CEO PropHero Australia.
"Our Australian clients' properties appreciated in value by +13% on average last year compared with the Australian market average which decreased by -4%," continued Ms Hayek. "When you work with PropHero, you get the benefit of our big data models and advanced analytics that pull hundreds of millions of observations from 32 sources and screen for more than 200 variables – including climate change – to find properties that are low risk and high return."
In the last two years, PropHero's has helped some 800+ investors on their journey to financial freedom by investing in property in Australia and also Spain. Of those, 80% have made a personal referral of a friend or family member to PropHero.
"An 80% referral rate is a better KPI for us than any NPS survey we could conduct. It shows the trust and the value that our clients have in PropHero, and we are so proud and grateful for those positive recommendations. It's testament to our unique combination, that we refer to in-house as our 'magic mix,' being digital technology and real human expertise," said PropHero's Australian Marketing Manager & Growth Lead, Tessa Kesbah.
Most recently, the multi-award-winning proptech has turned on a free, in-app property management feature that enables investors to track and manage any investment property anywhere in the world.
The latest global move from PropHero has been to add investment properties in Bali and the first release sold out in only two hours!
The PropHero team's main focus for the rest of 2023 is broader and deeper integrations with its marketplace partners so that clients can see live status updates from those partners without ever needing to leave the PropHero app. This will include building & pest inspections, renovations, mortgages and insurance.
PropHero Co-Founder Mickael Roger said, "From a data and technology perspective, our models and the features in our app will continue getting bigger and better. We're also going to add more geographies."
With a strong commitment to diversity & inclusion, building a positive culture and creating a great place to work, PropHero now has 60+ team members in Australia, Spain, Indonesia and other global locations.
PropHero Co-Founder Pablo Gil Brusola said, "I'm proud of the culture we have created at PropHero. It's been a key focus for us to build a great team alongside a phenomenal app. We're excited for our next year of growth!"