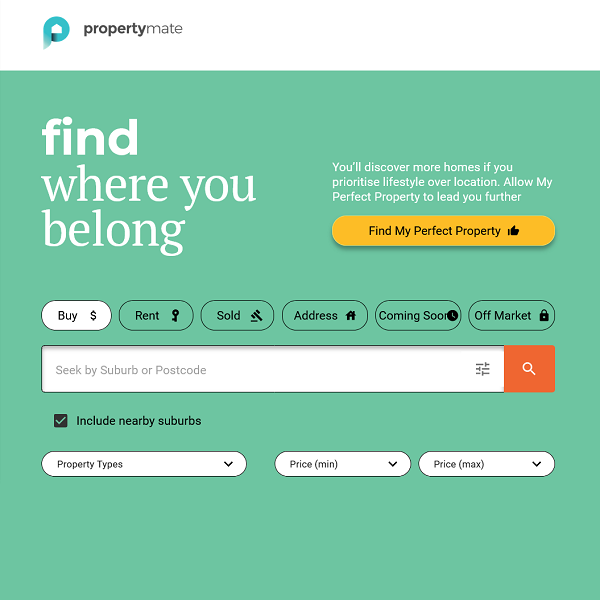 New Aussie AI property platform PropertyMate debuts, prefacing lifestyle over location
PropertyMate unites 600 of Australia's real estate brands with first industry-owned AI property App PropertyMate has made a bold entrance into the Australian real estate market with the official launch of its lifestyle focused AI property platform, as part of an industry-led move to modernise the property exchange and bring a sense of ownership and control back to agents and agencies.
Seizing opportunities in the latest UX and UI design, the PropertyMate mobile App adopts a familiar 'swipe left, swipe right' property search model that delivers and engaging experience, leveraging generative AI and future visual AI to redefine the way consumers find their perfect property.
Amid a swell of industry uptake and support, PropertyMate has united approximately 600 of Australia's leading real estate brands, representing approximately 3300 national, boutique, and franchise offices across the country. These top brands have embraced the platform for its strong industry ownership and daring price-point advantage against industry competitors, offering an innovative alternative to major property portals.
Agents listing on PropertyMate sold approximately 200,000 properties last financial year in the platform's early release, representing about 50% of Australia's real estate market. With a surge of listings forecasted on the platform beyond 2023, PropertyMate is on a mission to challenge the status quo and drive a pivotal shift in the Australian property industry.
Driven by a vision to create an immersive industry led ecosystem, PropertyMate was founded in 2020 with Co-Founder Steven Abbott (of Jellis Craig) saying the move has unified the industry at a time when agents and vendors are demanding greater value for money, broader listing options, and a property search experience that transcends the search engines of yesteryear.
"Recognising the changing needs of today's agents and consumers, we're redefining the standard of real estate with a dedicated channel of content driven by the industry itself. The technology we've built is challenging every traditional method of searching for property, creating an exciting and modernised property hunt that's all about lifestyle, in addition to location," Abbott said.
Inspired by the achievement of international property platforms such as On The Market in the United Kingdom, which established its own alternative platforms and successfully challenged leading market competitors, PropertyMate was confident the model could prove successful in Australia.
John McGrath, CEO of McGrath Real Estate, praised PropertyMate for providing agents and consumers with an alternative, modern, and value driven platform.
"Buyers and sellers have been looking for a different search option for some time now," said McGrath.
"The larger portals are effective at servicing basic enquiries, but their technology and features are very safe. PropertyMate is offering something new and innovative which is what both industry and consumers have been looking for."
Igniting curiosity and interest amongst consumers and agents alike, PropertyMate offers a suite of digital products and options, including My Perfect Property – a lifestyle focused search function enhancing the discovery experience. Additionally, there are Off Market and Coming Soon listings giving consumers first eyes on new properties and helping agents get properties online faster whilst building early campaign momentum.
"PropertyMate provides sellers and buyers with a fun new way to buy and sell property," said Marshall White Director, John Bongiorno. "Consumers have been asking for an alternative real estate platform that is more affordable and it is great to see the industry coming together to offer something new without being dictated to by competitor platforms."
Following an oversubscribed Launch Round to drive revenue and go-to market strategies, PropertyMate is taking a collaborative approach to investment opportunities for industry participation, with a second and third series of investment openings for strategic parties slated for 2024.
PropertyMate introduced its highly anticipated iPhone and Android mobile app in July 2023, marking the official launch of the platform and complementing a desktop and mobile optimised search offering that went live in December 2022.