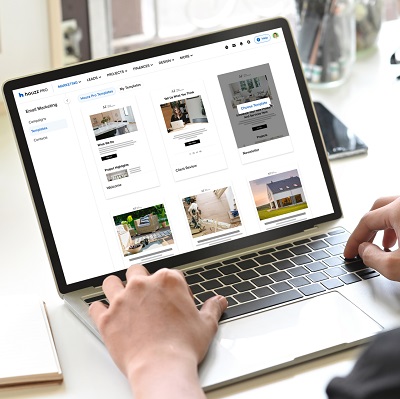 Houzz Launches Email Marketing Tool in Houzz Pro
Fully integrated email marketing features help pros engage with leads and clients.
Houzz Inc., the leading platform for home renovation and design, today announced the launch of Email Marketing. The tool is directly integrated into Houzz Pro, the all-in-one business management and marketing software for residential construction and design professionals. With the new tool, home renovation and design pros can quickly and easily create, send and track analytics for newsletters, company updates and other communications using customisable pre-built templates.
"We are excited to provide an easy-to-use email marketing tool in Houzz Pro, empowering pros to stay top of mind with leads and clients, increase engagement and build their brand," said Alon Cohen, Houzz co-founder and president. "We heard from our community of industry professionals that they wanted an easy way to keep in touch with clients who often become repeat customers and to nurture leads until they are ready to move forward. Houzz Pro email marketing helps pros do all of this easily and within one software platform."
With Houzz Pro Email Marketing, home building, renovation and design professionals can select a pre-designed email template with themes like newsletters, thank you notes, holiday greetings, promotions and more, or create an email design of their own. Once a template is selected, the pro can personalise it by dragging and dropping content including photos, company logo, text, and social media links. Email Marketing is part of the Houzz Pro CRM suite of tools, so pros can build their target email lists from the lead and client contacts already in the Houzz Pro lead manager, then send the email directly through Houzz Pro. Houzz Pro provides performance analytics including opens, clicks and unsubscribes to help pros optimise future sends. The tool is available to Houzz Pro Essential and Ultimate subscribers.
Houzz Pro helps residential construction and design professionals to run an efficient, profitable business and makes it easy for them to reach new customers, all while delivering a standout client experience. The software is available in more than 10 countries across North America, Europe, Asia, and Australia. Subscription packages, priced to fit any budget or team, also include estimates, invoicing, lead management and business management tools. Pros can learn more and get started at houzz.com.au/pro. The Houzz Pro app is available on iOS and Android devices.
The Houzz community includes more than 65 million homeowners and home design enthusiasts and over 3 million home renovation and design professionals around the world in more than 100 categories, including architects, interior designers, contractors, and landscape professionals.