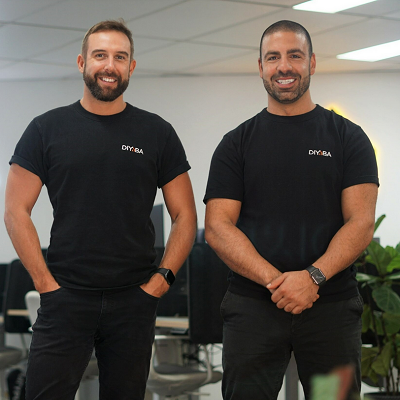 First-of-its-kind proptech launch takes DIY approach to property investing
PropTech startup DIYBA (Do It Yourself Buyer's Agency) announces the launch of its first-of-a-kind platform allowing everyday Australians to be their own buyer's agent. By combining expert industry knowledge, the latest property data – powered by PropTrack and Domain – and cutting edge AI technology, DIYBA (pronounced: "dee-ba") gives buyers exclusive access to invest like the pros, for a fraction of the cost.
The DIY platform is a first for the Australian property market and aims to democratise access to industry knowledge and expert guidance in a move that will allow more Australians to get a foot in the market with strategic investment purchases.
Co-founded by buyer's agents and investment property experts, Darren Venter and Bobby Haeri, DIYBA was created to give every investor the knowledge and tools they need to make smarter investment decisions through a platform driven by live, fundamental data and industry expertise.
Venter said, "We want to make property investment simple and accessible. The costs involved with a buyer's agency can put the investment path out of reach for everyday investors and relying on Google to guide your purchase can be a very risky rabbit hole to go down. There are courses that teach people how to search for investment property markets that cost thousands of dollars, DIYBA not only dings the markets, but the best properties inside them for a fraction of that. We know Aussies love a DIY project, so we're giving buyers the opportunity to navigate the journey on their own terms, while still accessing up-to-date, leading insights. It's going to be an absolute game changer."
DIYBA's self-serve platform has a three-step process:
1. Finding strategic investments: The DIYBA algorithm plays AI matchmaker by serving up a curated feed of high-performing assets from the strongest markets across Australia based on a user's input on budget and investment objectives. All markets and property formats are strategically pre-qualified by leading industry experts and given a DIYBA score which recommends them based on data-driven factors including market growth, gross yield and potential return. Buyers can filter markets by their preferred price or investment objective, and use DIYBA's market profiles — with median prices, demographic data, infrastructure information and more — to understand the potential of each market.
2. Making the purchase: Once a buyer has their finances sorted they can be guided through the purchase process by following DIYBA's step-by-step buying plan. This plan will guide buyers' due diligence and purchase validation and covers areas like pest & building, flood & fire zones, rental rates, and insurance cost with an actionable to-do list that breaks down each step and simplifies the process.
3. Managing the investment portfolio: DIYBA's dashboard allows investors to manage their new investment purchase and import existing properties into one easy to navigate online portfolio. This portfolio allows investors to find data updates about their potential equity, cash flow projections and yield percentages. They'll also receive alerts once their equity target has been reached in case they're looking to expand their portfolio.
DIYBA offers monthly, quarterly, and yearly subscription plans with options starting for as little as $299p/m and an option to fast track the process with DIYBA's done-for-you service, Buy By DIYBA, is available for those who would prefer to opt for a professional buying team to handle the purchase process.
Haeri said, "Through our work as buyer's agents, we know that people are finding it extremely difficult to get their foot in the property market at the moment. A large percentage are turning to rentvesting for their first purchase, but the associated fees of seeking professional advice can leave many stranded and making ill-informed, costly decisions. We've created a platform that might put us out of a job one day! It's all about democratising access to the same insights that buyers would have through an in-person buyer's agency experience and digitising it so they can DIY the process at the touch of a button."