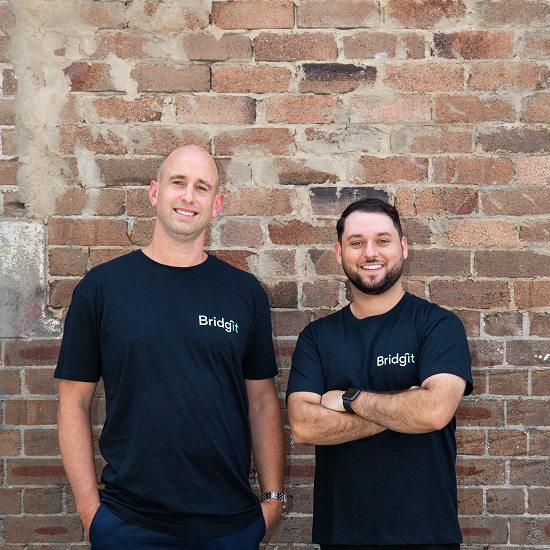 Fintech bridging loan specialists, Bridgit raises $7.7 million to strengthen revolutionary Buy Now Sell Later product
Emerging non-bank lender Bridgit (formerly known as TechLend) has secured $7.7 million in its latest equity funding round co-led by OIF Ventures and Perennial Partners, to help scale its revolutionary bridging loan product.
Bridgit is a non-bank lender specialising in bridging loans, offering same day approval to consumers through its proprietary technology. Co-Founded by entrepreneur Aaron Bassin and mortgage broker Nick Jacobs, Bridgit is on a mission to open the doors to all homeowners looking to purchase their next home quickly and seamlessly. It is also supported by a finance debt facility out of Silicon Valley in the United States.
Following a rebrand to Bridgit and a year which saw the bridging loan fintech process $400 million in loan applications, Bridgit aims to use its newly acquired capital to enhance its technology helping Australians gain access to the equity in their homes without having to sell first. This will see major investment into scaling up product capabilities, including ongoing development of Bridgit's innovative software solution which leverages property data and assess risk to provide approvals within the hour.
Bridgit Chief Executive Aaron Bassin said of the funding round, "The strong demand from investors in this latest round is a clear vote of confidence moving forward. This funding gives us the ability to build out our team and further develop a successful business culture that's ready to disrupt the industry. Having the support from strategic investors helps us continue to scale our technology across Australia, giving us immense confidence that our product will change the way people finance their next home."
"We're also continuing to strengthen relationships with our broker partners who have historically struggled to support borrowers in the bridging loan space through traditional lending avenues. We are committed to serving homeowners who want more flexibility to use the equity in their homes for the next stage of their lives."
Co-Founder and Partner Jerry Stesel at OIF Ventures said, "We're pleased to partner with Bridgit on this latest funding round. They have identified a problem for Australian homebuyers and have developed an elegant and effective solution. Bridgit aligns with our strategy of investing in high growth businesses at the forefront of technological innovation."
Bridgit's unique offering gives Aussie homeowners the opportunity to buy their dream home by accessing fast liquidity where they would normally be held back by traditional lenders. With recent ABS figures showing new loan commitments for housing rose 4.4 per cent to a record high value of $32.8 billion (seasonally adjusted) in December 2021, non-bank lenders with innovative solutions are becoming increasingly accepted.
Portfolio Manager at Perennial Partners, Ryan Sohn said, "With strong property prices and a growing mortgage debt to GDP ratio, the Australian lending sector is ripe for disruption. We're pleased to back Bridgit in their mission to provide homeowners a better alternative and look forward to seeing them further innovative and expand in market".
The company is the brainchild of former MoneyMe Head of Strategy Aaron Bassin and mortgage broker Nick Jacobs, who launched the company after becoming frustrated with the limitations of traditional home loans.