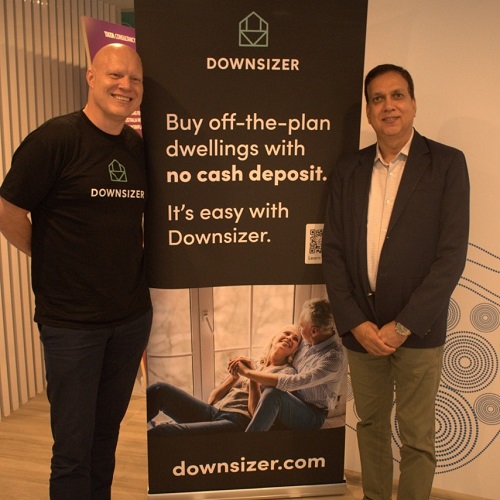 Downsizer partners with Tata Consultancy Services to accelerate technical development of its unique SaaS platform and support global growth at scale
Award-winning Australian proptech venture Downsizer has announced Tata Consultancy Services (TCS) as its key technology partner to accelerate the technical development and global growth of the Downsizer SaaS platform and consolidate its unique position at the intersections of fintech, proptech and insurtech.
The existing Downsizer SaaS platform has proprietary intellectual property that offers a real-time sales dashboard to property developers and also enables automated risk calculations for cashless deposit bonds that can be used by home buyers to exchange contracts on a new property.
As digital technologies disrupt well-established industries, the partnership enables Downsizer to leverage the TCS Co-Innovation NetworkTM (COINTM) and bring global capabilities into the Australian downsizing market.
The TCS team will support the transformation of the Downsizer SaaS platform's technical capability to deliver more solutions and brilliant UX for property developers, risk underwriters, and the rapidly growing cohort of over 55s intending to downsize and unlock both financial and lifestyle benefits.
Downsizer Managing Director Mark Macduffie said, "TCS is an ideal partner for Downsizer as we help the traditional finance, property and insurance industries to deliver innovative digital solutions for the growing downsizer demographic who want to make that important home transition."
According to research published in the "Downsizer Download" last year, Australia is right at the start of a home downsizing boom.  The research predicts 1.7 million Australian households could be downsizing in the next five years and that translates into trillions of dollars of real estate that will be sold and bought.  Additionally, this first wave of downsizing is expected to release $300 billion in net equity that can be invested to boost retirement income, for example, by making a downsizer contribution into superannuation.
"The downsizing boom is a global trend that is also taking off in the UK and USA," said Mark Macduffie.  "Downsizers are motivated sellers and more often than not they are cash buyers – often choosing to buy new build apartments off-the-plan – so they are not impacted by rising interest rates.  It's real estate's best kept secret!"
The day-to-day partner relationship will be managed by Phil Verdon, Chief Operating Officer at Downsizer, and Rohit Kapoor, Senior Executive and Delivery Centre Head, TCS Australia & New Zealand.