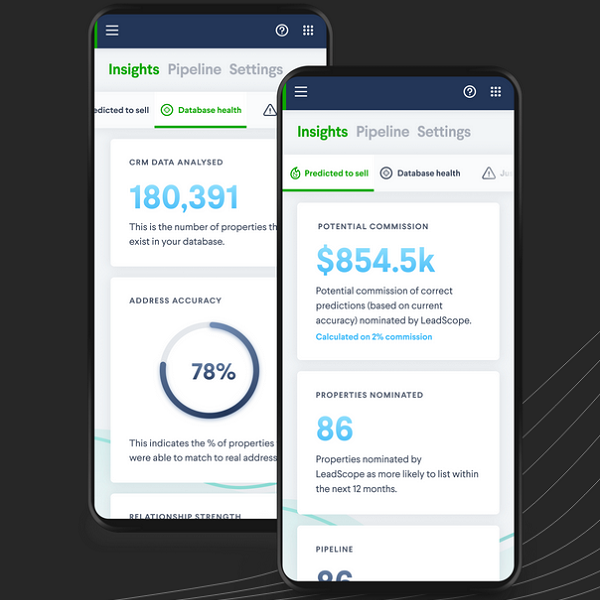 Domain launches AI-powered agent solution, LeadScope
Australian property marketplace Domain has introduced LeadScope, a powerful tool utilising cutting-edge AI technologies. Continuing its commitment to supporting agents throughout their workflow and needs, LeadScope empowers real estate agents with valuable insights from their CRM and enhances their ability to identify potential listings.
A new addition to Domain's full suite of integrated digital solutions, LeadScope is designed to address key challenges agent's face with their CRM, including the lack of comprehensive insights into their CRM databases.
LeadScope leverages a unique blend of data available to Domain, which encompasses property buyer and seller information, to provide powerful insights. It identifies properties within an agent's CRM database that are more likely to come to market within the next 12 months, enabling agents to have the right conversations at the right time.
LeadScope also has the ability to provide insights into the overall health of an agent's CRM. This includes timely information on properties that have recently listed and those that have been successfully sold, among other valuable data points. By leveraging LeadScope, agents are able to unlock the full potential of their CRM, optimising their workflow and productivity.
Danielle Harmer, General Manager, Domain Product and Allhomes, said, "We are excited to introduce LeadScope as part of our Agent Solutions ecosystem designed to maximise the efficiency of an agent's workflow. It has a simple but powerful purpose – to help agents focus on finding the next opportunity in their CRM and have the right conversations at the right time. As a strategic partner for agents, we had a clear goal: to create a product that allows agents to use their time more effectively."
John Foong, Chief Revenue Officer at Domain, added, "This is just the beginning of how we are using the latest in artificial intelligence to push boundaries and offer powerful innovations to our Agent community. We are committed to providing best-in-breed technologies for agents and will continue to bring the latest in AI to life, helping our customers to build and scale their businesses."
LeadScope is now available in New South Wales, Queensland, Tasmania, Western Australia, Northern Territory, and the Australian Capital Territory.