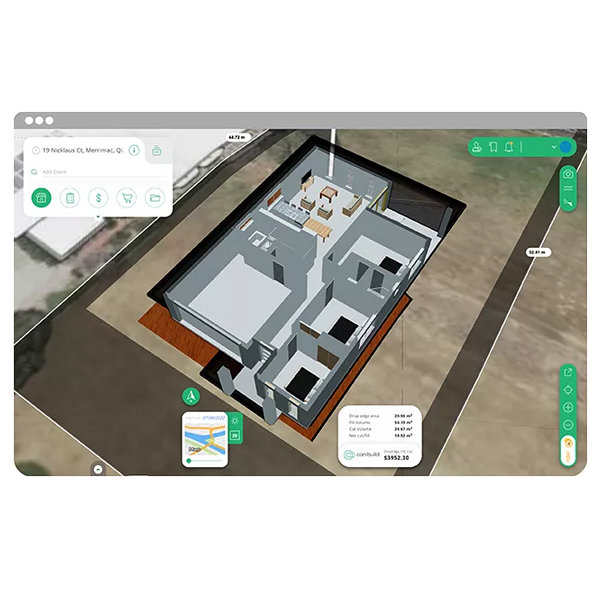 Canibuild launches Real-Time 3D – an industry first offering
Fast-growing PropTech company canibuild entered the market less than two years ago with something completely unique – the ability for builders to virtually assess a site's suitability for residential construction in real time. Now in an industry first, they have launched 3D functionality, joining the 'engagement economy' which proves that customers interact 30-40% more with products that include gamified content. 
This month, they take their technology a step further by launching their Real-Time 3D offering, which estimates real-time on-site costs, cut/fill calculations, drop edges, shadows in a dynamic fashion so that if the property is moved, the Real-Time 3D render will instantly adjust. 
In an industry first, the Real-Time 3D offering from canibuild is set to increase by 30% to add to their already over 15,000 searches per week which services the leading building companies including Metricon, G.J. Gardner, McDonald Jones Homes, Clarendon, Stroud, Narellan Pools, and Granny Flat Solutions for businesses in the construction of pools to houses, sheds and even granny flats. The Australian conceived and built technology also has a host of international clients in New Zealand, the United States of America and Canada, including (but not limited to) G.J. Gardner Homes, Boxabl, San Juan Pools and Blue Haven Pools. 
Founder and CEO Timothy Cocaro is no stranger to the industry, having worked in construction for over 20 years. "Builders now have the ability to visually show their clients how their build will look on site, visually seeing the cut into the ground or additional foundation work, the solar shadowing or how the elevation presents from the street… all in 3D, all instantly." 
The canibuild platform uses a Geographic Information System (GIS) with Artificial intelligence (AI) to create an inclusive planning and design tool. It equips building sales teams with the tools needed to take customers through design, viability and compliance in a visual way and enabling informed decision making. 
The gamification of construction in the Real-Time 3D offering allows users to see the shadows cast by the proposed build at any given time of the day, on any day of the year. It also takes the guess work out by taking into consideration the contours and auto calculates the cut/fill for the block or the spoil from a proposed pool site excavation, making quoting seamless with using the platform.  
"Gamification is everywhere in tech products, and the building industry is no exception. We set out to change the way our industry operates by providing an enjoyable experience both for the service provider and the customer. The gaming element provides a fun design and challenge and have been applied to real-world experiences for not only the purpose of entertainment, but for transparent outcome," Tim says.  
"The convergence of technology and gamification results in a smoother and more deliberate process to achieve a building outcome in real time using this unique 3D technology. We are proud of what we have created and excited to see the market uptake of our technology."