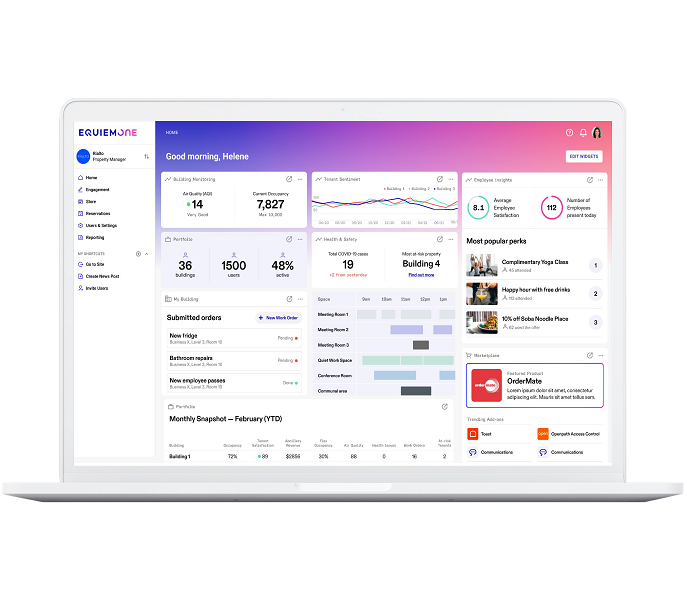 Amid record-setting proptech funding and consolidation activity, Equiem launches Equiem One
Equiem, the global leader in tenant engagement solutions for commercial real estate, have announced the launch of Equiem One, an end-to-end platform bringing tenant experience, operations, and data & analytics solutions into a single, modular interface.
"A little over twelve months ago, we acquired Vicinitee — a building operations platform servicing many of the UK's trophy assets for over 20 years — with a vision to bring tenant experience and operations together in a single platform," said Gabrielle McMillan, the CEO of Equiem. "Since then, we've been hard at work to integrate the two platforms, alongside a robust data & analytics suite, into a single interface for building managers, asset managers, workplace managers, and employees."
The property technology (also known as "proptech") industry has seen explosive growth over the past 24 months. In March alone, the industry saw M&A activity totaling $1.1 billion globally. And in the tenant experience space specifically, VTS and HqO join Equiem as consolidators in their vertical, with VTS having recently acquired Rise Buildings and Lane, and HqO acquiring Office App last October.
"We believe a single platform for office building management is imminent," McMillan said. "Landlords articulate this in different ways. Some say that want all their systems 'integrated', others say they want 'a one-stop-shop' for all their software needs, but what they're really saying is they need a singular interface that brings all the features and data together in one place, for the multiple stakeholders in an office building… and that's what we're delivering."
The Equiem One announcement comes alongside another major announcement for Equiem: a record sales quarter, where the global proptech leader closed 100+ new building contracts, in large part due to the Equiem One product plan.
"The current environment demands people-first models that can successfully draw professionals back to the office, but the foundation must rely on landlords who have the tools they need to create connectivity and synergy within their buildings," said Mark Ferris, COO of Bridge Commercial Real Estate. "After much review, it was clear that Equiem One was a superior platform that would allow us to maximize tenant engagement and provide enhanced communication, creating a true 'win-win' for all parties."
"The ability to deliver property operations and tenant experience solutions through an integrated platform significantly enhances customer experience by bringing multiple functions together into a single interface," said Sally Jones, Head of Strategy, Digital and Technology at British Land, one of the UK's leading property companies. "It simplifies the workflows for property managers and connects the data necessary to provide a 360 degree view of the customer relationship. Data-driven decision making is the future of real estate."
Equiem's integrated solutions have recently been rolled out across two of British Land's mixed-use London campuses, including at Broadgate, a 32-acre campus located next to Liverpool Street station in the City of London, which is home to many of the world's leading financial, legal, technology and media companies, and at Paddington Central, an 11-acre campus which sits beside the Grand Union Canal and Paddington station.
"We chose Equiem as our partner because they have the most innovative track record for success, coupled with a true real estate background, said Vince Cicciarelli, Vice President at Lincoln Property Companies, who recently chose Equiem as their workplace experience partner. "Equiem One is the next chapter of innovation for them and for the industry, and we're excited to be along for the ride."