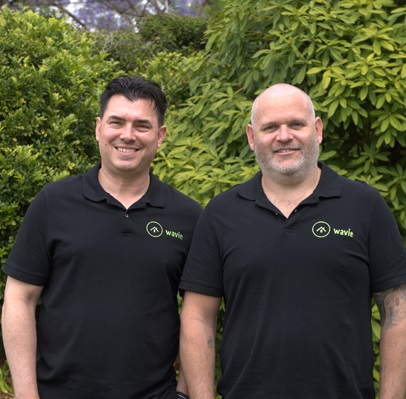 Real estate sector facing massive shakeup with launch of DIY sales platform Wavie
Property owners across the country will soon have a new way to sell their property without having to pay exorbitant real estate agency fees.
Wavie, Australia's newest real estate platform, will launch in early 2024 and it is being heralded as a game-changing service that will completely revolutionise the property sales sector in Australia.
Founded by a team of industry leaders including Andy Dunn, a respected property expert, and Josh Luschwitz, a profile and highly respected Sydney based third generation real estate agent, Wavie enables people to put their property on the market and get the sale done without the need for an agent, thereby saving thousands on commissions and fees.
"Wavie has been born from firsthand experiences and the mutual dissatisfaction with the outdated practices of many agents and substantial fees that characterise traditional property sales," Wavie co-founder and managing director, Luschwitz said.
"As a result, Wavie has emerged as an innovative solution set to transform the real estate landscape. We saw a glaring need for a platform that places property owners at the helm of their transactions, providing them with unparalleled control, absolute transparency, and substantial savings in their property-selling journey.
"Wavie is the poster boy for this industry shift. By harnessing the power of cutting-edge technologies like AI and machine learning, combined with a deep-rooted commitment to the needs of clients, Wavie is redefining real estate. Our mission is to streamline transactions, making them not just simpler and more intelligent, but also drastically more economical for homeowners everywhere."
The platform offers homeowners simple plans with services that support them to sell their property themselves. Plans range from Wavie Basic which is $6,995 for homes up the value of $500,000 through to Wavie Plus ideal for homes that are valued at over $1.5 million. Services include support, listings on sales platforms, conveyancing, photography, social media and signage and digital marketing; essentially all the support homeowners need to sell their property.
"As the homeowner, you know your property better than anyone else. You also understand the value of time and money and therefore should have the ability to make choices around where you spend your money when selling your property," Luschwitz said.
"If you have the time to undertake sales activities yourself and access to a platform that equips you with all the tools and assistance, then why not take this route? It is going to save you tens of thousands of dollars and provide you with the same outcome as using a real estate agent.
"The platform is easy to use, highly intuitive and importantly, equipped with everything you need to undertake a successful, cost-effective sales campaign that ultimately puts more of the sale funds back into your pocket."
Founders Andy Dunn, Wavie's CEO and Josh Luschwitz, Wavie's Managing Director, are looking forward to the launch of the groundbreaking service.
"As a real estate agent, I have been asked why I am doing myself out of a job. The answer is I am not. The market will always need full-service real estate agents like myself, but it is also time for an uberised real estate selling service that enables property owners to do more of the work themselves," Luschwitz said.
"Our market research shows there is significant, unmet demand for our Wavie platform. We have been actively running social media campaigns to successfully generate pre-registrations and expressions of interest, and have been blown away by the response so far. This is a signal to me that Aussies are ready for a new way to handle real estate transactions.
"I grew up with real estate in my blood, I'm a third-generation real estate agent. The family business was established in 1969, and I joined it in 2007. The real estate market has evolved a lot even during this time with the internet becoming the primary way people searched through listings and researched property. COVID restrictions also ushered in different ways of viewing and transacting real estate, again primarily online. We are now on the brink of an exciting new platform that will appeal to people looking for an easy way to cut out the middle person."
Launch set for Q1 2024
"We are planning to have our first clients on board in early 2024 to join in our vision to leverage new technology such as AI and create a new business model for users seeking to sell their properties and bypass having to engage an agent for the job," Luschwitz enthused.
"There are several 'for sale by owner' products already in the market; however, they offer limited technology and services as part of their platforms. Wavie will provide a completely different way for people to buy and sell houses.
"As a real estate agent myself, I still absolutely love selling homes and running my agency. This new platform by no means serves to attack or denigrate agents, I see this new service as an alternative option for people who also see the potential of this type of platform."