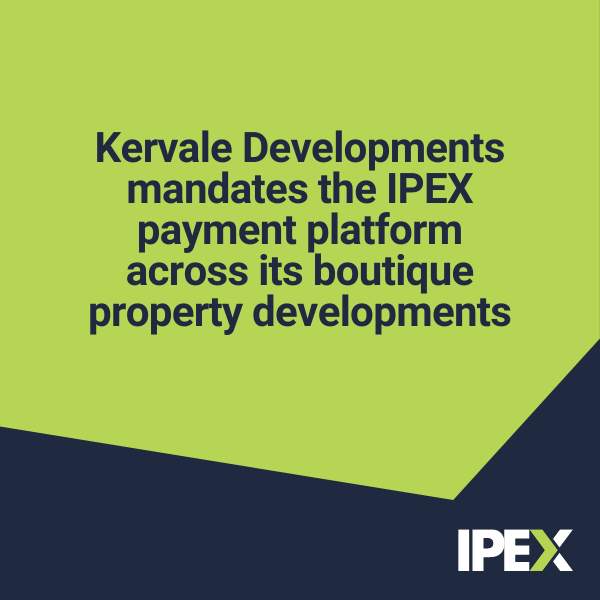 Kervale Developments mandates the IPEX payment platform across its boutique property developments
IPEX, the revolutionary Australian payments platform for protecting the cash flow of construction projects, is now part of the official tender process for boutique property developer, Kervale. Launched in 2021, IPEX has set new benchmarks for the integrity of payment flows and today has generated almost $600 million in construction payments to sub-contractors and suppliers.
Established in 2019, Kervale is a property development company delivering premium builds for residential and commercial projects in metropolitan and regional Victorian locations. Its vision is to be a development organisation that enhances and builds community through its work – trust, relationship building, and reputation are the cornerstones of its success.
For Managing Director Rob Moolman, transparency and application of construction payments were fundamental in the discussion of their corporate ethics.
"We felt it was crucial to be as transparent as possible. Once we learnt about IPEX, we quickly realised that this was the future direction we wanted to take. It meets our benchmarks for transparency and the management of payments risk. IPEX also supports our discussions around long-term trust and relationship building.
"As a relatively new entrant to the property development market, we are confident IPEX is helping us to build the reputation of trust that we want with our clients. It's important they know we can monitor and report on the funds being drawn down by our builders across the project's lifecycle. We are just as accountable as the builder for the project's payments to sub-contractors and suppliers," he outlined.
For the team at IPEX, the goal is to become the industry standard for payments in construction and to play an active role in protecting the future of the construction sector. IPEX is designed to be a foundational element for developers, builders and sub-contractors to ensure the safe delivery of payments.
"We are delighted to welcome Kervale Group onboard our rapidly expanding customer base," says Mathew Carey, Executive Director, IPEX. "It's significant that there is a growing demand from the property development community for greater transparency and control over their project funds. In the case of Kervale, it was vital for them to know that their project investment remains in their project supply chain and isn't being used to fund somebody else's.
The increased adoption of fintech for the sector is fundamental in creating a transparent project supply chain, effectively reducing the financial risks associated with construction projects today.
IPEX works by securing funds in a project bank account and ensuring those funds are paid to verified sub-contractors and suppliers on the project. The IPEX platform stores data securely and has transparent and verifiable records.