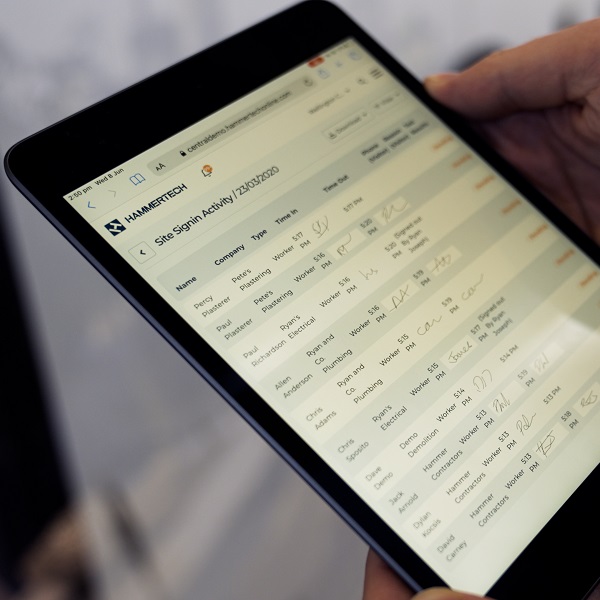 Construction tech company HammerTech announces partnership with Irongate Solutions
Construction software company HammerTech and access control specialist Irongate Solutions have announced a partnership that will significantly enhance site efficiencies and safety for construction clients, while solving the "lost security pass' problem forever.
The arrangement will see Irongate's advanced access control technology integrated with HammerTech's safety and quality operations platform, providing team members with faster site access – in less than half a second – using a range of high-tech solutions such as RFID, QR code, facial recognition and smart pin code technologies.
Combining the technologies of the two market leaders, both Australian owned and operated, also eliminates the need for employers to maintain a separate access control database, saving project teams at least an hour per day. Access data is automatically populated into the HammerTech system while approved worker data and completed site inductions are recognized by Irongate's technology to prevent unauthorized site access.
HammerTech CEO and Co-Founder, Ben Leach said, "One of the great advantages of HammerTech's platform is the way it integrates with third party offerings, meaning we can connect with best-in-class solutions such as Irongate's access control technology to reduce friction and improve productivity for our clients."
"The integration will save clients hours each month thanks to the pairing of databases, while providing greater visibility of site activity. Check-ins and check-outs of all workers are automatically logged in the HammerTech site diary, giving managers an instant, accurate and transparent view of site activity without any manual intervention."
"And at worksites adopting the cardless access options, workers will never have to worry about forgetting their security pass again."
Irongate Solutions director Tim Dickeson said, "The partnership and integration between HammerTech and Irongate allows two complementary systems to further increase the productivity and safety of worksites and save time for site teams."
"By joining our systems, the platform syncs data instantaneously, and as new workers come on site they are quickly and seamlessly added to the system. Our combined technology removes a large part of the labour-intensive manual processes of site inductions, ultimately contributing to project efficiencies."
The partnership, which was formally announced today, has already been rolled out on numerous construction sites, including a number of Mirvac, Toga, ADCO, Taylor and Richard Crookes projects.
Mirvac HSE Operations Manager Scott Djuricin said, "Having access to both HammerTech and Irongate technology has given us more reliable and robust access solutions, both through the physical infrastructure and the database connectivity. This has allowed us to streamline accurate numbers on the project, whether for deliveries or for large groups of people who need to visit the site at once."
"The live reporting means we have an accurate picture of the number of workers on a project at any given time, with this information readily accessible from our HammerTech dashboard. Ultimately this will allow us to complete our work more efficiently, which will enable more time allocated on other priorities."