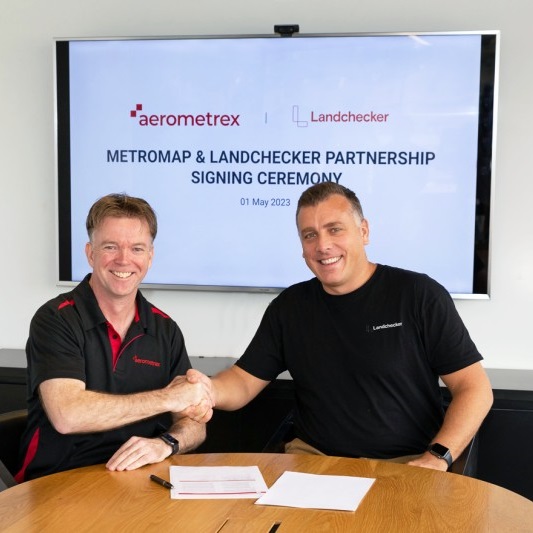 ASX-listed Aerometrex signs largest MetroMap partner agreement in multi-million-dollar deal with Landchecker
ASX-listed Aerometrex Limited announced today that it has entered into a minimum $2.65 million MetroMap licence agreement with Landchecker.  This new agreement builds on the strong relationship between the two companies, significantly increases revenue from Aerometrex's MetroMap partner program, and provides additional growth opportunities.
Landchecker is a Melbourne-based property data and technology business providing customers with fast, accurate and easy-to-interpret insights, helping users make informed property decisions across Australia. MetroMap's high-resolution aerial imagery is currently used within Landchecker's online platform and is subscribed to by Landchecker's customers who use integrated products through the platform.
Commenting on the deal, Aerometrex's CEO & Managing Director, Steve Masters said, "This is a significant opportunity for both Aerometrex and Landchecker, building on the strong foundation and collaborative relationship between both companies.  We are excited about what this new agreement can offer customers and look forward to working with Landchecker to realise its full potential. This is the largest MetroMap partner program agreement in Aerometrex's history and will make a strong contribution to MetroMap's Annual Recurring Revenue (ARR) stream over the contract term."
Sharing his views on the deal and how it benefits their customer base, Landchecker's Chief Executive Officer, Adam Gandolfo said, "We are excited to be expanding our successful partnership with Aerometrex. MetroMap's High-Resolution aerial imagery is an important data set many of Landchecker customers engage with daily. This partnership will enable us to provide more customers an equally compelling proposition, bundling our leading property data and insights with quality high-resolution imagery from MetroMap under flexible, cost-effective commercial arrangements. We see the partnership as a great outcome for all concerned, particularly Australia's property professional community."
Prior to this agreement, Aerometrex's MetroMap partner program involved around 30 partners and contributed approximately $1.2 million of annual revenue (as of 31 December 2022).  This agreement aligns with Aerometrex's key strategic initiatives to develop successful partner programs, build brand awareness, and grow sales channels for future revenue streams.
Scott Butterworth, nominee Director for PEXA at Landchecker commented, "This agreement solidifies the partnership between Landchecker and Aerometrex. As Landchecker continues to expand its offering among Australia's legal practitioner and conveyancer network, datasets such as High-Resolution Imagery are becoming increasingly important to the efficient transacting and settling of property assets."
Michael Sheehy, nominee Director for RACV at Landchecker also stated, "This is a great partnership for Aerometrex and Landchecker – we are looking forward to seeing both businesses thrive."
Aerometrex has continued to invest in developing its MetroMap product, including image capture, customer platform development, and product development.
This new agreement involves Landchecker purchasing from Aerometrex a fixed number of tailored MetroMap licences and for Landchecker to purchase additional licences above the fixed amount during the term of the agreement.  These licences can then in turn be offered through the Landchecker platform to its customers. The key terms include:
Landchecker will pay Aerometrex a minimum annual payment fee of $0.8 million for the fixed number of licences.
Landchecker can purchase additional licences above the fixed amount at an agreed price per licence, thereby enabling additional revenue opportunities for Aerometrex and Landchecker over the contract term.
The number of additional licences that Landchecker can purchase from Aerometrex above the fixed licence quantity is uncapped.
All licence payments are subject to annual fixed indexation and will be invoiced monthly.
The agreement commencement date is 01 May 2023 and the expiry date is 30 June 2026.
Other general terms and conditions are customary with agreements of this nature.